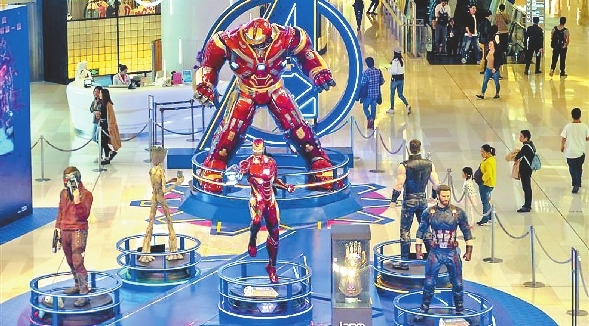 Disney and Marvel's "Avengers: Infinity War" smashed global box office records with an estimated US$630 million, setting a new high-water mark for an opening weekend.
The superhero film brought in an estimated US$250 million in North American theaters, which is the biggest North American opening weekend of all-time, shattering the record previously held by 2015's "Star Wars: The Force Awakens," which opened with US$248 million. It also earned US$380 million internationally over the weekend.
"Avengers: Infinity War" is the sequel* to 2012's "The Avengers" and 2015's "Avengers: Age of Ultron." Directed by Anthony and Joe Russo, the film tells the story of the Avengers and Guardians of the Galaxy who attempt to stop Thanos, one of the most powerful, insane and evil of all villains in the Marvel universe*, from collecting the Infinity Stones.
Horror thriller "A Quiet Place" came in a distant second with an estimated US$10.65 million in its fourth weekend in North America. The film has brought in US$148.17 million in North America to date.
"A Quiet Place" was directed by John Krasinski, who stars with his wife, Emily Blunt. The plot of the film follows a family who must live life in silence while hiding from creatures that hunt by sound.
Comedy "I Feel Pretty" landed in third place with an estimated US$8.13 million in its second weekend in North America. Written and directed by Abby Kohn and Marc Silverstein, in their directional debuts, the film follows an insecure* woman who believes that she is the most beautiful and capable woman in the world after suffering a head injury from a fall.
Fourth place of North American weekend box office goes to "Rampage" with an estimated US$7.1 million in its third weekend. Another Disney and Marvel superhero flick "Black Panther*" finished fifth with an estimated US$4.38 million in its eleventh weekend. (Xinhua)