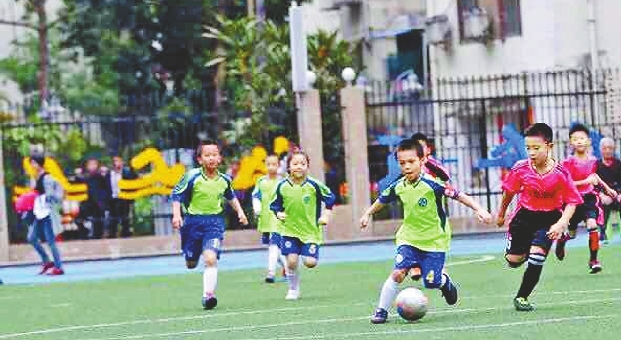 There is still more than one month before the 2018 World Cup football games in Russia, but at Yuanling Elementary School in Futian District, children were already competing at the "Principal Cup" inter-class football match and the "World Cup" for kids.
The monthlong event has ended but the football fever in the school continues.
The inter-class football match employed the rules of the FIFA World Cup with each class representing a different country. To get more students involved, the school required that each team should have at least one girl player and that she had to play on the field. Also, each player has to play for no less than two minutes.
The rule was welcomed by the parents. A father of a second grader said, "My child has grown a lot through this match. He learnt team spirit and how to face difficulties. I think allowing children to play and fall in love with football is more important than winning the game."
Kids at the school had something to say about football and the World Cup. They were inspired by what they learned about the geography, history and football development of different countries and designed logos for the teams they represented.
Liu Jin, the teacher who is in charge of football-related matters at the school, said that a total of 1,760 students took part in the football skills test, researched football culture or made gift cards; 465 played in the matches; more than 500 joined the cheering squad; 93 participated in the football knowledge contest; 30 were reporters and 15 were referees.
Mei Yanqi, principal of the school, said that "Each child is unique. Since not everyone is good at sports, we planned a variety of activities so that each student could find something they like."
Founded in 2010, the school's football team had humble beginnings and was ranked eighth at a football match in Futian District. The year 2014 was a banner year for the team, as it won championships in a number of matches.
(Yang Mei)