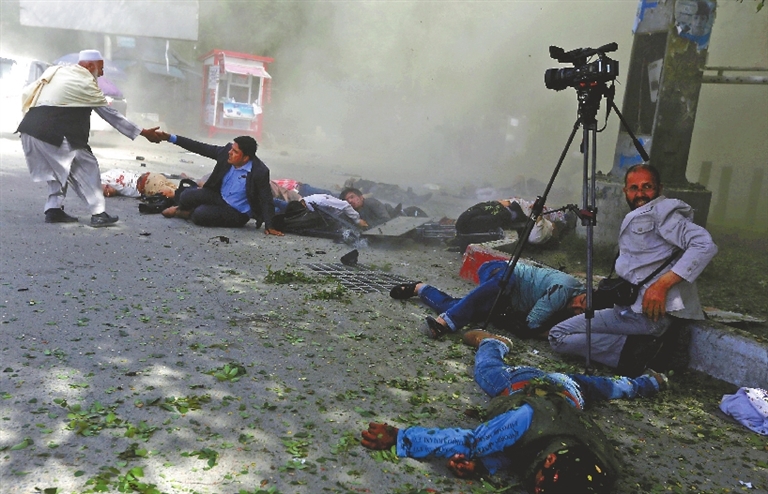 TEN journalists were killed in Afghanistan on Monday, including nine reporters and photographers who died in a suicide bomb attack in the capital Kabul and a journalist working for the Afghan language service of the BBC who was shot dead in the eastern city of Khost.
It was the deadliest day for the country's media since a U.S.-led campaign ousted the hardline Islamic Taliban regime in 2001.
In Kabul, journalists covering a bomb blast during the morning rush hour were standing in a loose group near the site of the explosion when the suicide bomber struck, killing seven people outright and wounding several, two of whom later died.
The bomber appeared to have deliberately targeted journalists, presenting a press card to police before joining the group standing near the first blast site, interior ministry spokesman Najib Danesh said.
In all, 26 people died in the two Kabul blasts, which were claimed by Islamic State.
Among the dead were Shah Marai, veteran chief photographer for Agence France-Presse in Afghanistan, who had worked for the agency for 22 years. Also killed was Maharam Durani, a young female producer who had joined Radio Azadi, a local station, only a week earlier.
Reuters photographer Omar Sobhani, an old friend and colleague of Shah Marai, was standing next to him when the bomb exploded. "We were standing on a slight rise to get a better shot when I heard a bang and saw him on the ground. I was stunned, I couldn't believe it," said Sobhani, who suffered minor wounds.
In Khost, Ahmad Shah, who worked for the BBC's Pashto language service as well as for Reuters, was killed on the outskirts of the city, according to Talib Mangal, spokesman for Khost's provincial governor. The BBC confirmed the death in a statement on Twitter.
There was no indication of any direct link between the attacks in Kabul and Khost.
Among a litany of setbacks since the Taliban were ousted in 2001 and tens of thousands of deaths, Afghanistan's lively and independent media sector has stood out as a success but it has suffered heavy losses.
According to the Afghanistan Journalists Safety Committee, at least 80 journalists and media workers have been killed working in the country since 2001.
(SD-Agencies)