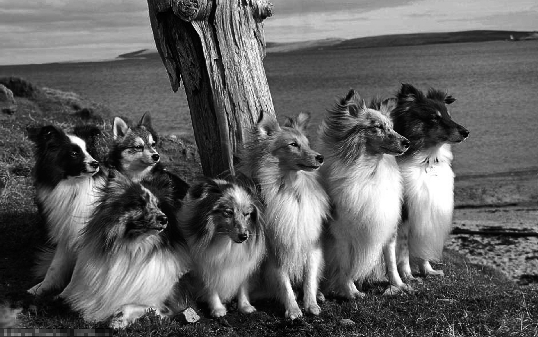 THE pictures of seven adorable dogs, which could be the most obedient pooches in Scotland, are stunning.
Kaylee Robertson has six Shetland Sheepdogs and one Alaskan Klee Kai which she says are like "fully trained models."
The 28-year-old's clever pups have been taught to stand together while she takes pictures of them striking a pose.
The cute pups, whose ages range from 6 months to 6 years old, are called Fenton, Thiago, Gimli, Mercy, Ghost, Murphy and Jara. Some of the dogs have been posing since they were 4 weeks old.
Robertson, an ambulance technician from Scalloway, the largest of the Shetland Islands, says the trick to having such well-trained dogs is "bribery."
"We give them lots of treated and positive reinforcement," she said.
"When they had sat nicely and looked at the camera we would throw them a ball. They associate it as a game."
When Robertson gives the command for them to "release" they are rewarded with a ball, which they all end up squabbling over.
And the dogs have become local celebrities, with patients always asking Robertson about them when riding in the back of her ambulance.
The avid dog-owner had one Shetland Sheepdog but decided she wanted more. So she decided to surprise her husband-to-be by bringing home one every week after they moved in together.
She said, "He was so mad. I had it all planned, I was going to make him a nice meal when he came home and surprise him. Now he will kiss the dogs before he kisses me!"
The doggy photographer says the best advice for taking photos of your pooch is to keep a happy dog. "You can't take a pretty picture of a dog if they look sad. So relax, enjoy the moment and when the timing is right — take the shot," she said. (SD-Agencies)