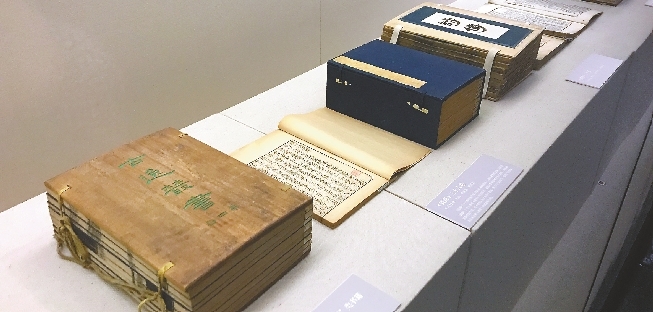 Cao Zhen
caozhen0806@126.com
FINELY printed and revised ancient books dating back to the Song Dynasty (960-1279) are on display at the Shenzhen Museum. The books were selected from 1,500 cases of ancient books donated by a private collector to the museum two years ago, according to Cai Huiyao, deputy director of the museum. The private collector, who refuses to be named, hopes the books are kept well-preserved and safe at the museum.
"After two years' tiding-up, we now present some books from the 'classics' category and will exhibit other categories in the next three years. The exhibition is our response to Chinese President Xi Jinping's call for the retrieval of historical documents and restoration of relics to 'let the relics speak and teach people the wisdom of the past,'" said Cai.
Ancient Chinese texts are classified into four categories: jing (classics 经), shi (history 史), zi (philosophy 子) and ji (literature 集). The classics category's prestige is so great that for thousands of years, it was regarded as norm-setting for Chinese society, law, government, education, literature and religion due to its association with the ancient sage Confucius.
At the exhibition, visitors will not only admire "The Collection of Mr. Hui'an," a Song Dynasty book on Confucianism, but also have a glimpse into Korean and Japanese books on Confucianism. Mr. Hui'an was an alias of Chinese philosopher Zhu Xi (1130-1200), a Confucian scholar. He has been called the second-most influential thinker in Chinese history, after Confucius himself. The Korea-originated editions were printed in the 15th century while the Japanese-originated editions were made in the 19th century. These foreign-printed books, although still in Chinese language, exemplify the two Asian countries' admiration for Confucianism.
Visitors can also have a glance at a wood engraving printing board and a movable type printing board made in the Qing Dynasty (1644-1911), as well as the butterfly binding method. Butterfly binding is the earliest known form of paper bookbinding in China, invented during the Song Dynasty. Single-printed folio pages were pasted together and folded into a stack, creating a book in which pairs of printed pages alternated with blank ones.
Dates: Until June 10, closed Mondays
Hours: 10 a.m.-6 p.m.
Venue: Shenzhen Museum, Block A, Civic Center, Futian District (福田区市民中心A区深圳博物馆)
Metro: Line 2 or 4, Civic Center Station (市民中心站), Exit B