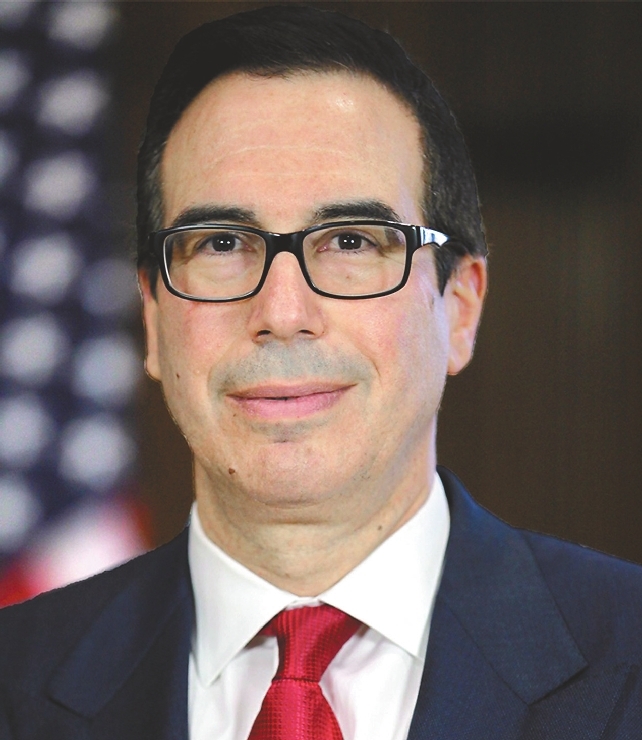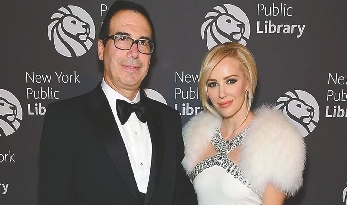 AMID trade tensions with China, U.S. Treasury Secretary Steven Mnuchin, leading a trade delegation, started a two-day trip to China to hold highly anticipated trade talks with Chinese officials Thursday.
The trip came after U.S. President Donald Trump proposed imposing tariffs on US$50 billion in Chinese exports and threatened tariffs on an additional US$100 billion. China, in response, said it will impose its own tariffs on U.S. products.
Those who want to catch a quick glimpse of the U.S. treasury secretary need look no further than their cinema or television set.
Mnuchin, who became the U.S. treasury secretary in February 2017, made his debut on the silver screen in "Rules Don't Apply," in November 2016.
The synopsis of the film, which sees an aspiring actress and an ambitious businessman's lives changed in "unpredictable and incredible ways" has some parallels with U.S. President Donald Trump's own journey to the White House.
Mnuchin has a cameo role as a Merrill Lynch banker, but the 54-year-old is no stranger to Wall Street.
Following in the footsteps of his father Robert, he become a banker at Goldman Sachs in 1985 after studying at Yale.
He worked there for 17 years, including working with mortgage-backed securities in the mid-1990s, where he rose to the role of vice chairman of the division.
Mnuchin also worked with the man who broke the Bank of England.
Billionaire George Soros hired him in 2003 to start a new business focused on buying risky debt.
SFM Capital Management, Soros' business, was seen by many as Mnuchin's move from banking to the hedge fund industry.
But Mnuchin wouldn't have been Trump's preferred candidate if he didn't bring with him at least a bit of glamour.
In 2004, backed by Soros, Mnuchin founded Dune Capital Management with two former Goldman colleagues.
The company quickly expanded into the entertainment business, partnering with 21st Century Fox to back "Avatar," one of the highest-grossing films in history.
Mnuchin now counts "Suicide Squad," "American Sniper" and even "Magic Mike XXL" among his producer credits after forming RatPac Entertainment, which merged with Dune a few years ago to become RatPac-Dune Entertainment.
Also rather like Trump — who has flirted with different political parties before settling with the Republicans — Mnuchin and his family have aligned themselves more with the Democrats than Republicans in the past.
He has donated to Hillary Clinton's past campaigns, according to electoral commission records, including the maximum US$2,300 to her presidential primary bid in 2007. He later backed former U.S. President Barack Obama's bid.
The treasury secretary has also donated to campaigns run by John Edwards, John Kerry and Al Gore, according to Dow Jones.
Records show Mitt Romney is the only Republican presidential candidate Mnuchin has ever donated to, although in an interview with Dow Jones, he said that "for as long as I can remember voting," he has been a registered Republican.
"He has experience managing large and complicated private-sector enterprises and in negotiating difficult compromises and making tough decisions — and being accountable for those decisions," said Senator Orrin Hatch, chairman of the Finance Committee.
Trump appointed Mnuchin as his national finance chairman in 2016, where he helped to cultivate a network of small donors that helped the then presidential candidate compete with Clinton.
Mnuchin is following in the footsteps of fellow Goldman bankers Hank Paulson, who served under George W. Bush, and Robert Rubin, who served under Bill Clinton.
But New York-born Mnuchin had to use all his Hollywood hardball negotiating skills to secure his real-life role as the treasury secretary in the government.
His nomination by Trump in late 2016 was savaged by Democrats after it emerged he failed to declare more than US$100 million of financial assets.
He did not disclose US$95 million worth of property — houses in New York City, the Hamptons, Los Angeles and Mexico. He also initially failed to disclose that he is the director of Dune Capital International, an investment fund incorporated in the Cayman Islands, along with management posts in seven other investment funds.
And he belatedly disclosed that his three children, from his second marriage to Heather Crosby, a corporate communications executive, own nearly US$1 million in artwork.
Asked about the omissions at his hearing, Mnuchin described them as an oversight — a mistake amid mountains of paperwork.
"I think as you all can appreciate, filling out these government forms is quite complicated," he said, noting he had handed over 5,000 pages of disclosures. "Let me first say, any oversight, it was unintentional."
It poured fuel on the fires of his critics, who also invented an unfortunate nickname for him when he was working in property deals: "Foreclosure King."
Americans who claim they were forced out of their homes as a result of Mnuchin's mortgage dealings demanded to be heard at his hearing; 23 Senate Democrats wrote to demand outside witnesses at the hearing, saying Mnuchin's bank, OneWest, carried out 36,000 foreclosures forcing people from their homes.
Among those upon whom OneWest foreclosed were an elderly California couple tossed from their home of 50 years despite qualifying for a government-assisted loan modification, and a 90-year-old Florida woman who had a payment error that led to a 27-cent shortfall on her mortgage, the letter said.
Mnuchin and his team sold OneWest in 2015, reaping around US$1.5 billion in profits. The letter said: "His bank's treatment of families seeking to avoid foreclosure is critical to assessing his fitness to serve as the nation's top economic policy official."
The treasury secretary, who played a key role in Trump's tax cutting plans, has called for the largest tax overhaul since Reaganomics.
"We think by cutting corporate taxes we'll create huge economic growth and we'll have huge personal income," he told CNBC in November.
He said cutting corporation tax to 15 percent from 30 percent was a major goal for the Trump administration, as he called for the tax system to be simplified.
"Taxes are way too complicated and people spend way too much time worrying about ways to get them lower," he said.
Mnuchin, an early supporter of Trump, attended his victory party after the New York Republican primary victory April 19, 2016.
He was called the following day by Trump, who asked him if he wanted to be the national finance chairman of his campaign. Mnuchin, who later said in an interview he had known Trump "for over 15 years," accepted the offer.
In a statement announcing the appointment, Trump said "Steven is a professional at the highest level with an extensive and very successful financial background." He also said Mnuchin would bring "unprecedented experience and expertise" that would benefit the Republicans.
Mnuchin called Trump's economic agenda a "bold" one "that creates good-paying jobs and defends the American worker."
Mnuchin's mother was a longtime investor with Bernie Madoff. After his mother died in early 2005, Mnuchin and his brother liquidated her investments, making US$3.2 million.
A Madoff trustee sued to retrieve the money from the Mnuchins, but a court ruled that the Madoff trust could only recoup money from those who had cashed out within two years before the December 2008 collapse of Madoff's company.
Mnuchin married his third wife Scottish actress Louise Linton in June 2014. Linton has ignited a social media firestorm following her response to critics of her Instagram post soon after their marriage.
The trouble started when Linton posted a now-deleted image of her and Mnuchin's trip on Instagram, tagging several luxury brands, fashion-influencer style.
The Treasury Department later said that "the Mnuchins reimbursed the government for the trip, and that Ms. Linton was not compensated by any of the labels she promoted with hashtags." Linton later also apologize for the post.
Linton also wrote a highly controversial memoir about her time in Zambia, painting it as a war-torn "nightmare" and casting herself as the white savior. The backlash caused her to pull the book from Amazon and to apologize.(SD-Agencies)