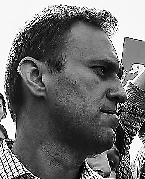 RUSSIAN opposition leader Alexei Navalny was released from police custody early yesterday, a day after hundreds of people were detained following an anti-government protest in Moscow.
Navalny, a fierce critic of President Vladimir Putin, organized the rallies in several cities across Russia on Saturday. He was detained by police shortly after arriving in Moscow's Pushkinskaya Square, with dramatic images showing the protest leader being carried through the crowds by police.
Navalny said in a tweet that he was released shortly after midnight yesterday, after police "registered two protocols against me: organization of a rally and resistance of the police."
His release comes ahead of Putin's inauguration as president today after winning re-election in March.
It will be Putin's fourth term as president, delivering him six more years as leader, and ultimately seeing him in power for 24 years. It also makes him Russia's longest-serving leader after Soviet leader Joseph Stalin's 29-year rule.
Navalny is Russia's best-known opposition leader, and was barred from running in the presidential elections after a 2017 criminal conviction for embezzlement.
Critics say the case against the 41-year-old was politically motivated to keep him off the ballot. Police detained about 300 people at the "unauthorized rally," according to Russian state-run news agency TASS.
(SD-Agencies)