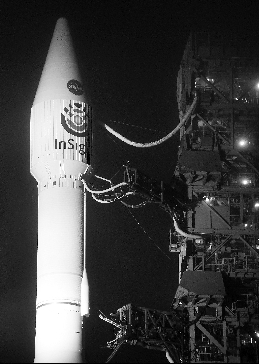 A ROBOTIC geologist armed with a hammer and quake monitor rocketed toward Mars on Saturday, aiming to land on the red planet and explore its mysterious insides.
In a twist, NASA launched the Mars InSight lander from California rather than Florida's Cape Canaveral. It was the first interplanetary mission ever to depart from the West Coast, drawing pre-dawn crowds to fog-socked Vandenberg Air Force Base and rocket watchers down the California coast into Baja.
"This is a big day. We're going back to Mars!" NASA's new boss, Jim Bridenstine, said following liftoff. "This is an extraordinary mission with a whole host of firsts."
The spacecraft will take more than six months to get to Mars and start its unprecedented geologic excavations, traveling 485 million kilometers to get there.
InSight will dig deeper into Mars than ever before — nearly five meters — to take the planet's temperature. It will also attempt to make the first measurements of marsquakes, using a high-tech seismometer placed directly on the Martian surface.
"That's the real payoff of this whole mission and that's still lying ahead of us," said the mission's chief scientist, Bruce Banerdt of NASA's Jet Propulsion Laboratory in Pasadena, California.
Although fog prevented Banerdt from seeing the liftoff of the US$1 billion U.S.-European mission, he heard the roar of the rocket and all the blaring car alarms it set off.
"It was just an incredible moment," Banerdt said. Despite the challenges still ahead, "I think I can bask in a little bit of satisfaction and just feeling like we really accomplished something today."
Besides InSight, the United Launch Alliance's Atlas V rocket gave a lift to a pair of mini test satellites, or CubeSats, that are trailing InSight to Mars to serve as a potential communication link.
Nicknamed WALL-E and EVE from the 2008 animated movie, the twin briefcase-size spacecraft popped off the rocket's upper stage in hot pursuit of InSight, as elated launch controllers applauded and shook hands following the morning's success.
NASA hasn't put a spacecraft down on Mars since the Curiosity rover in 2012.
If all goes well, the three-legged InSight will descend by parachute and engine firings onto a flat equatorial region of Mars — believed to be free of big, potentially dangerous rocks — Nov. 26.
Once down, it will stay put, using a mechanical arm to place the scientific instruments on the surface.(SD-Agencies)