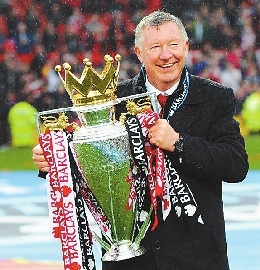 FORMER Manchester United manager Sir Alex Ferguson was in intensive care after emergency surgery for a brain hemorrhage Saturday amid an outpouring of affection and get-well messages from across the soccer world.
Since retiring from United after almost 27 years in charge in 2013, the 76-year-old Ferguson has continued to attend matches at Old Trafford, participate in coaching initiatives, and has been a regular at horse racing as a prominent owner.
"Sir Alex Ferguson has undergone emergency surgery today for a brain hemorrhage," United said in a statement. "The procedure has gone very well but he needs a period of intensive care to optimize his recovery. His family request privacy in this matter."
The most successful manager in British soccer history, Ferguson has appeared in good health since ending his intense direct involvement in coaching. The Scot had surgery to fit a pacemaker in 2004 after a heart irregularity was discovered and had a hip operation five years ago shortly after retiring from United.
Since leaving the dugout, Ferguson has traveled the world passing on his vast knowledge to a new generation of coaches and fans through books and talks, including at Harvard University, on how he won 49 honors in his career including 38 titles at United. Starting work as a teenager in a Glasgow shipyard instilled a socialist ethos that the former Glasgow Rangers player carried throughout a career that included a spell coaching Scotland at the 1986 World Cup and eventually saw him knighted by Queen Elizabeth II.
He also helped to make households names of two of the game's biggest stars: David Beckham and Cristiano Ronaldo.
Ferguson's only significant career regret was he managed to win the Champions League only twice, but the first triumph was part of the 1999 treble that also included the Premier League and FA Cup. The scale of Ferguson's achievements during his dynastic reign is underscored by United's failure under three managers to win the Premier League in the five years since his retirement.
(SD-Agencies)