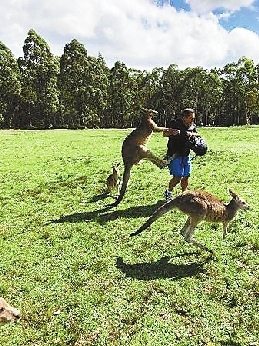 KANGAROOS are one of Australia's biggest tourist draws, but visitors to one park are getting more than they bargained for.
Tourists in Lake Macquarie, a two-hour train ride from Sydney, are ignoring warnings and feeding carrots to kangaroos who become aggressive at the sight of their favorite sugary snack, a tour operator said.
Each week thousands of people flock to see the kangaroos on grassy slopes near a psychiatric hospital, enticed by travel blogs promising "adorable wild kangaroos" that are "tame enough to get close to and take photos with."
Carrots in hand, the tourists approach the kangaroos, seeking a selfie with an Australian symbol that graces the country's coat of arms.
It doesn't always end well.
A photo posted by a tour operator on Facebook showed a kangaroo leaping up to kick a tourist with its powerful legs. Other photos showed a woman with a scratched face and a man with a bloody gouge in his stomach.
"Kangaroos can occasionally be aggressive no matter what the circumstances are, but 90 percent of the time it's the people who are trying to feed them who are attacked," Shane Lewis, who operates a tourist shuttle service to the park, told Reuters.
Lewis said he showed photos of injuries to tourists as a reminder of the damage a wild animal can do. (SD-Agencies)