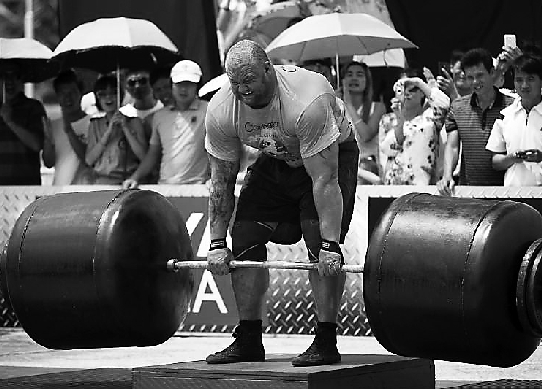 ICELANDIC powerlifter Hafthor Bjornsson was crowned 2018 World's Strongest Man on Sunday after winning three of the final weekend's six events in Manila, the Philippines.
The 29-year-old, famous for his role as Gregor "The Mountain" Clegane on "Game of Thrones," finished second in the 20-ton truck pull before winning the loading race to secure his maiden first-place finish in this competition.
His victory also made him the first athlete to win World's Strongest Man, Europe's Strongest Man and the Arnold Strongman Classic all in the same calendar year.
Bjornsson finished runner-up in World's Strongest Man for the third time in 2017, but he finally made that vital step up to the peak of the podium, ending up a substantial 6.5 points ahead of his nearest rival Sunday.
Bjornsson led American Brian Shaw after Saturday's opening salvo of events but only by 2.5 points, and it was Sunday that he demonstrated why he deserves to be a man of mythical proportions on "Game of Thrones."
Sunday's performance in Manila was so impressive, in fact, that an average display in the closing Atlas Stones didn't prevent him from clinching a big piece of history in the sport.
The truck pull gave Bjornsson an opportunity to put his 2.1-meter frame to superb use in the day's opening event, where he traversed the course in 36.06 seconds, just one-10th of a second slower than event winner and eventual runner-up Mateusz Kieliszkowski of Poland.
And Kieliszkowski's challenge to the throne continued in the loading race, where athletes race around a 50-foot (13.9-meter) course packing five objects, weighing up to 164 kilograms apiece, onto a platform.
It was here that Bjornsson's athleticism came to play a factor, and his winning time of 31.22 seconds was more than two seconds faster than second-place Kieliszkowski.
"The Mountain" entered the final event, the Atlas Stones, 5.5 points ahead of nearest opponent Kieliszkowski, meaning a sixth-placed finish was all that was needed to secure the top prize on offer.
He managed to place four of the five stones atop their platform in 41 seconds, which was good enough for fifth, but Kieliszkowski couldn't capitalize and finished only one place ahead, while Shaw came fourth. Johan Els was the only athlete to lift all five stones and did so in a blistering 43 seconds.
Eddie Hall was the 2017 World's Strongest Man but was absent from this year's competition:(SD-Agencies)