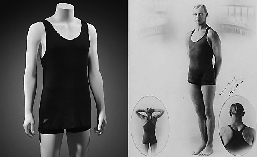 A RARE unworn original Speedo swimsuit from the 1920s will go on display at Dundee's V&A Museum of Design.
The Racerback was banned from some beaches on its launch for being too revealing, but was later adopted by Olympic swimmers.
The swimsuit will be displayed in V&A Dundee's Scottish Design Galleries when the museum opens Sept. 15.
Speedo was founded in Australia in 1914 by immigrant Alexander MacRae, who was born in the northwest Highlands. Before the Racerback, swimsuits were made of wool and had sleeves to protect the wearer's modesty.
The Racerback had straps that crossed at the back and was made of cotton or silk, which absorbed less water. The design was also significantly more tight-fitting than other contemporary swimwear and included the distinctive Speedo tick logo.
V&A Dundee assistant curator Meredith More said the Racerback's revealing back straps "challenged moral codes" in the 1920s, when mixed bathing was only just becoming acceptable. (SD-Agencies)