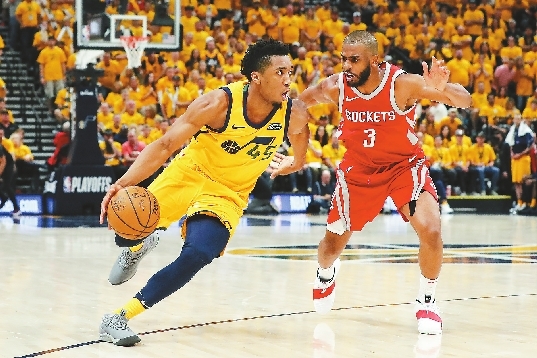 CHRIS PAUL had 27 points and 12 rebounds while James Harden scored 24 points to power the Houston Rockets to a 100-87 win over the Utah Jazz on Sunday night, taking a 3-1 lead in the Western Conference semifinal series.
"It showed a lot of grit for us to come in here and win two games," Paul said.
Paul, playing the sidekick to Harden for most of his first season in Houston, took center stage, controlling the tempo and getting to his favorite spots as the Rockets led from start to finish.
"Chris is shooting those shots like a layup," Harden said. "He was extremely aggressive tonight, which we need from him."
Donovan Mitchell scored 25 before fouling out and Joe Ingles had 15 for the Jazz.
Mitchell started finding lanes to the basket late and got the Jazz within 85-80 after he fueled a 10-2 run, sending the crowd into a frenzy. But Paul, who matched his scoring high for this playoff run, hit a pull-up jumper and found Trevor Ariza for a 3-pointer to put the Rockets back up by double digits and they never looked back.
Houston, which has been known for their offensive firepower, put forth a disruptive defensive effort.
Clint Capela, the anchor of the Houston defense, had 12 points, 15 rebounds and six blocks, one of which featured a Dikembe Mutombo-like finger wag in the fourth quarter.
"We missed 22 shots at the rim," Utah coach Quin Snyder said. "We had our chances and didn't convert. Some of them were contested. Some of them were open. You're not going to get any better shot."
The Rockets went up by 15 in the second quarter before the Jazz closed to 51-46 on back-to-back three-point plays by Mitchell. Utah trailed 58-48 at the half.
Neither team was accurate from beyond the arc as the Jazz were 7-for-29 and Houston went 10-for-38. (SD-Agencies)