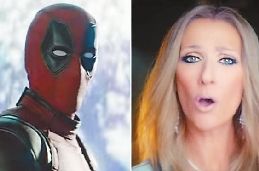 A NEW music video from the forthcoming "Deadpool 2" has taken fans by surprise with an unlikely star — Celine Dion.
The singer performs "Ashes," taken from the sequel's soundtrack — and she's certainly not doing things by halves.
Dion said fans would be "laughing their ashes off" at the video.
And if the film is anything like this video, she's not far wrong. Deadpool [Ryan Reynolds] is seen wearing high heels and busting some interpretive dance moves.
Slow motion footage from the new film plays as Celine Dion belts out the lyrics to her power ballad, and the video comes complete with a string quartet.
Once Celine has reached her dramatic vocal climax, this glorious exchange then takes place between her and the anti-superhero.
"The Deadpool 2" soundtrack also features music from Skrillex and DJ Shadow — as well as Cher and Dolly Parton.
(SD-Agencies)