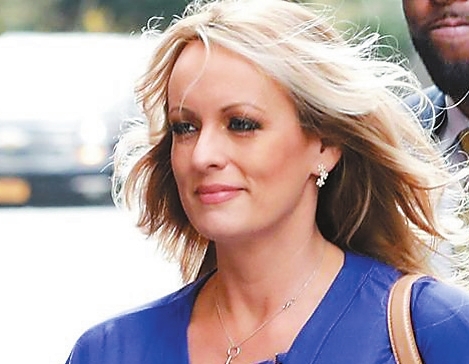 U.S. porn star Stormy Daniels has made a surprise appearance on U.S. TV show "Saturday Night Live" as her legal wrangle with President Trump over an alleged affair continues.
Playing herself in the latest in the show's series of sketches lampooning the president, she mocked him, saying, "I know you don't believe in climate change but a storm's a coming baby."
Daniels was paid US$130,000 by Trump's lawyer in 2016 to keep quiet.
Trump denies the affair.
However he has said he reimbursed his lawyer Michael Cohen for the US$130,000 payment, which he says was designed to stop Daniels from making "false and extortionist" statements.
"The Saturday Night Live" sketch featured actors Alec Baldwin as Trump and Ben Stiller as Cohen.
In it, Baldwin playing Trump instructs his lawyer to "call up Stormy Daniels and fix this once and for all" and keep him on the line to listen in.
Daniels herself answers the phone to loud whoops from the audience.
Stiller calls Daniels and asks if she's alone, with Baldwin as Trump then interrupting with: "And what are you wearing?"
Baldwin as Trump then takes over the call and tells Daniels everyone knows the alleged affair is "just an act."
"I work in adult films, we're not really known for our acting," Daniels replies.
"What do you need for this all to just go away," asks Baldwin, to which Daniels says, "A resignation."
Earlier in the sketch, Stiller as Cohen refers to contradictions in statements last week by Trump and his new lawyer Rudy Giuliani about the legal case involving Daniels.
Stiller appeals to Trump and his new lawyer Rudy Giuliani, saying, "Guys can we please just decide on one lie and stick to it because our stories are all over the place."
(SD-Agencies)