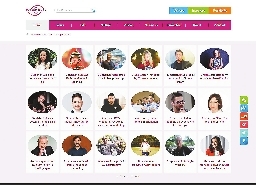 Chen Xiaochun
654789759@qq.com
A NEW design is released today to mark the second anniversary of www.eyeshenzhen.com, Shenzhen's first English-language portal website, with a purple color scheme to represent Shenzhen's city flower, the bougainvillea.
For its second birthday, the website welcomes another piece of good news. According to the third-party website traffic monitor SimilarWeb, EYESHENZHEN received over 150,000 monthly visits over the past two months, higher than any other English-language city portal website on the Chinese mainland.
The new version of the website features an internationalized design and rich content. It consists of seven parts, namely news, services, culture, videos and photos, business, innovation and travel, serving as a comprehensive window into Shenzhen. In addition to this, EYESHENZHEN has designated special sections for visitors, investors and expat residents in Shenzhen to provide information in an efficient and intuitive way.
Run by a professional media team, a large number of original articles and high-quality photos and videos are produced for the news portal. Major events, including the China Hi-Tech Fair, China (Shenzhen) International Cultural Industries Fair, Shenzhen Belt and Road International Music Festival and Shenzhen Design Week, are all covered by the EYESHENZHEN team, delivering timely updates on the news that most engages the Shenzhen international community.
One example of EYESHENZHEN's stellar coverage is the special report on the 2018 Shenzhen Belt and Road International Music Festival, which has received a total of 330,000 views since its release. "Pride of Shenzhen," one of the many bilingual videos on the music festival produced by the EYESHENZHEN video team, has gotten over 60,000 clicks on YouTube.
Another highlight of the news portal is its services function which covers education, tourism, medical services, transportation, checkpoints, hotels, and cultural and sports facilities, making the life of expats easier here in South China.
Apart from its role as an information provider, EYESHENZHEN also organizes a variety of events for the purpose of engaging its readers in real life, such as the Shenzhen Expats Chinese Talent Competition and the International Etiquette Contest. It has also launched an event series called "Join Us for Fun" in which foreign residents are invited to grab a bite to eat or try their hand at traditional local activities like crafting, or acting out dramas and customs.
EYESHENZHEN, sponsored by the Information Office of the Shenzhen Municipal People's Government and run by Shenzhen Daily, is a major project included in the Implementation Measures for Shenzhen's Cultural and Innovative Development by 2020.
The website, along with its English-language WeChat service account, was launched May 9, 2016.