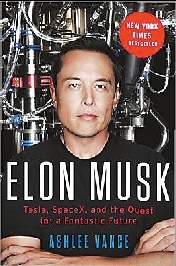 《硅谷钢铁侠》
Ashlee Vance is an award-winning feature writer for Bloomberg Businessweek magazine.
He opens the book at an interview with Elon Musk himself. The first line, a quote from Musk, "Do you think I'm insane*?", perfectly captures the context of the biography. As you experience the story and see the challenges Musk went through to reach the pinnacle* he's at today, the question nags at you.
Musk isn't soft-spoken, or easy on his employees, or a man who kicks his legs up on his desk and snoozes* while his companies mill around him. He gets in the work, asks all the right questions, gives all the right orders. His vision is the vision, and if you get in the way, Musk has been known to fire you on the spot.
Musk breaks every convention* and every standard. Vance takes you deep into the details, from Musk's childhood in South Africa, all the way to Canada and the United States, where the bulk of the story unfolds.
You also get some great insight into the overall ecosystem around Musk — his companies (SpaceX and Tesla primarily), relationships with other companies and government entities, as well as the important people around him. Many biographies give you a timeline of the person, but little insight into the broader context.
This is an inspiring book, looking into a game-changing business strategy and a valuable lesson to the world. As Musk says, "If something is important enough, even if the odds are against you, you should still do it."(SD-Agencies)