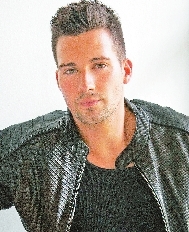 詹姆斯·马斯洛将推出新单曲《All Day》
James Maslow, who rose to international fame on Nickelodeon's "Big Time Rush," has quite a résumé under his belt. He has not only just starred on "Celebrity Big Brother," where the superstar attracted countless headlines for his highly entertaining feud* with Brandi Glanville, but also won the elite Macy's iHeartRadio Rising Star Award for 2017.
This recognition gave Maslow the opportunity to perform at the opening festival of KIIS FM Jingle Ball in Los Angeles and Z100's iHeartRadio Jingle Ball in New York City.
He's now about to embark on a new journey with the debut of his brand-new single, "All Day," featuring Dominique. Yahoo Entertainment is excited to present the premiere for fans, who have long awaited a taste of his fresh sound.
Maslow was the last male standing as a finalist on Season 18 of ABC's "Dancing With the Stars," and recently wrapped his headlining role as John Watson opposite David Arquette in the international tour of the stage adaptation of "Sherlock Holmes." He also starred as Kevin Mohr on the Sony Crackle original series "Sequestered," and can be seen in the feature film "48 Hours to Live."
(SD-Agencies)