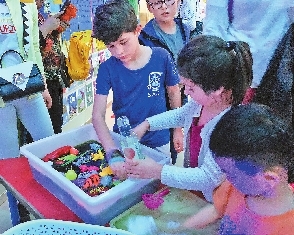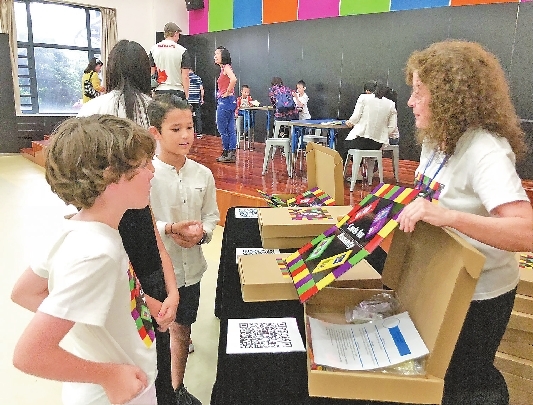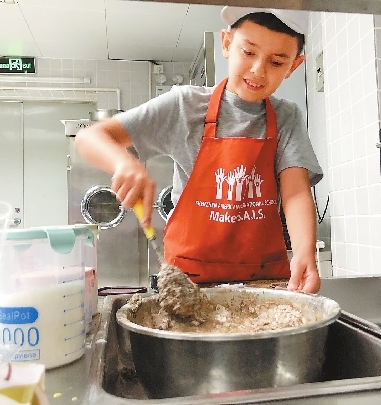 深圳深美国际学校在第六届年度学习展上展示学生学习成果
Nan Nan
there_sun@163.com
Students from Shenzhen American International School (SAIS) demonstrated their learning outcomes for the public at the school's sixth Annual Exhibition of Learning, which was held on April 26.
Students of different grades ran these interactive exhibits which involved various subjects such as ocean life, mood management for students, cooking, personal stories of immigrating to Shenzhen and so on.
Grade 3 students introduced Africa to the public. By first conducting research on basic information such as cultures, wildlife and geography, students called upon people to help raise money for school constructions in Africa during their presentations.
"It's good that I have had a chance to learn about another place that is far away from China," said student Lily Zhou, who really enjoyed doing the research.
To make learning about Africa more interesting, students also designed a game in which players move around the game board, answering questions about Africa along the way. The person who answered the most questions correctly would win. "I am surprised that such a good game is created by these students," said a 9-year-old student's father Alex Tao, who tried this game and bought one to play with his kid.
In another activity, students transformed a classroom into an under-the-sea "theme park." They made paper models as well as information cards for introducing different ocean animals to guests. Liu Jingzhou, a 3-year-old student's grandfather, liked the "If oil spills in the ocean, how can you help?" game. "It is really good to teach students about environmental protection at such a young age."
Grade 5 student Macy Mai did the "Humans of Shenzhen: Immigration Stories" project for the second time as she loves retelling people's story.
This time she introduced her grandma Yuan Ziqing's life story. "I am really glad that my granddaughter has grown up," said Yuan Ziqing. "When Macy interviewed me, she acted like a real professional journalist."
"SAIS is a project-based learning school. Part of project-based learning is to present what you have learned to the audience," said Darin Schmidt, principal of SAIS. "This public presentation helps students get confidence so that they can make use of what they have learned to solve real world problems or to make something by utilizing what they have learned," Schmidt added.