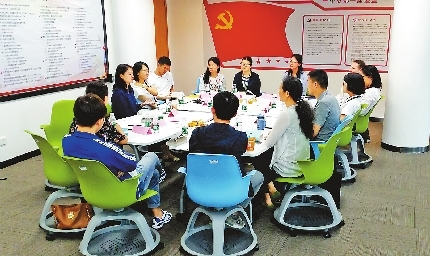 Matthew Jellick
For the third semester in a row, I am hosting an English book club, run in partnership with 15 Southern University of Science and Technology (SUSTech) staff members who are dedicated to creative learning approaches in language acquisition. Every two weeks, about 100 pages of reading is assigned before meeting on Thursdays at lunch to hold an open discussion on not only what we read within the book, but how those ideas translate to our own personal experiences.
Dedicated and motivated, the members of the SUSTech Staff English Book Club are a testament to not only the collective efforts of the university, but also the individual ambition of each of these colleagues who dare to scratch beneath the surface of the words and express themselves in a constructive learning environment.
In the past two semesters we have read Perter Hessler's "River Town" and Anchee Min's "The Cooked Seed," each describing the dichotomies of cross-cultural integration into different societies, from the United States to China and vice versa. Taking a completely different approach this time, I chose Robert Pirsig's "Zen and the Art of Motorcycle Maintenance," which doesn't deal with Sino-U.S. complexities; rather, it addresses the "Metaphysics of Quality" through the story of a family motorcycle journey across the U.S. Midwest. Daytime rides through the plains set the table for nighttime discussions about "quality of life," and how it pertains to our narrator, and in turn, each of us.
The members of our book club bring with them a unique set of personal circumstances that underscore the intricacies of our discussions where prompts seemingly flow from one to another, forming a stream of consciousness that is highlighted by the book's narrative. Careful to understand that there is no "right answer" in our biweekly deliberations, respect for other's opinions is a key facet of our meetings, where group participation leads to constructive dialogue.
There are some members who are joining the book club for the first time while there are others who have participated in the past two groups, yet each person is encouraged with a support that goes to benefit everyone involved, regardless of their English skillsets.
Early in the book, Pirsig writes, "[w]e want to make good time, but for now, this is measured with emphasis on 'good' rather than 'time' and when you make that shift in emphasis the whole approach changes." I brought this sentence up at our first meeting, questioning the relationship of "good" and "time" and the effect each has on our lives. The subsequent discussion which ensued served as an example of why I chose to volunteer my time with these book clubs: an intelligent conversation shared among my university colleagues that stretches beyond prescribed textbooks into a realm where creative thought and expression is fostered.
The SUSTech Staff English Book Club provides this opportunity every semester and it is my hope that we are able to continue to explore the boundaries of non-traditional narratives and the relationship the stories have on our own experiences as individuals.