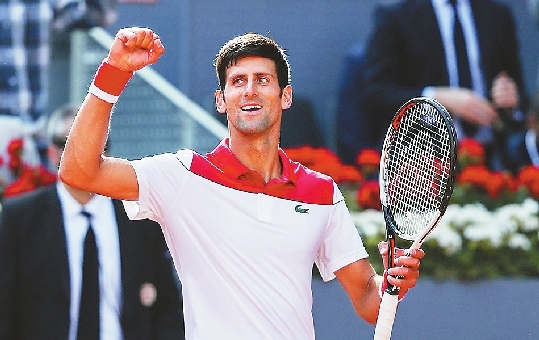 NOVAK DJOKOVIC got the type of win he needed to boost his confidence and get his game back on track.
He beat 20th-ranked Kei Nishikori 7-5, 6-4 in the first round of the Madrid Open on Monday, his highest-ranked win in 10 months.
Djokovic broke serve late in each set to get past Nishikori after nearly two hours in the Magic Box.
"I'm glad that match went my way, but it could have gone his way as well. I managed to play the right shots in the important moments," Djokovic said. "It was exactly what I needed for my confidence and for my game. I'm just happy to go through this one."
Coming back from a right elbow injury, Djokovic hasn't made it to the quarterfinals in his previous five tournaments this year, admitting he returned to tennis too quickly. In his last event, he lost in the third round in Monte Carlo, where Nishikori reached the final.
"I'm just trying to take one day at a time, build my game, because that's something that I feel is a priority right now," Djokovic said.
"I was looking forward to these kind of matches, looking to try to win these kind of matches. I couldn't ask for a better start. I feel much better about everything that is happening on the court and around tennis, in general, with my body better than maybe two months ago."
Djokovic was aggressive from the start, hitting 26 winners against Nishikori, who has made at least the Madrid quarterfinals for the last five years. He was a finalist in 2014, losing to Rafael Nadal.
Top-ranked Nadal will make his tournament debut against Gael Monfils. Maria Sharapova, who won in Madrid in 2014, made it to the last 16 by defeating Irina-Camelia Begu 7-5, 6-1 in only her second match since the Australian Open.
(SD-Agencies)