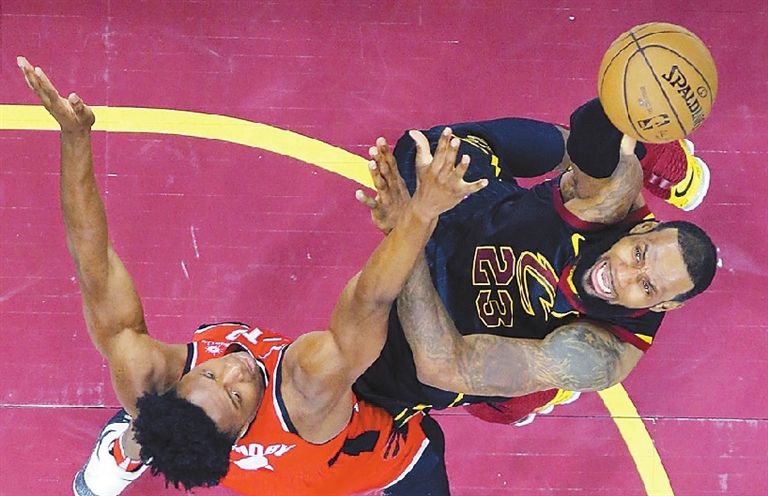 LEBRON JAMES ended Toronto's season for the third straight season with a second consecutive four-game sweep as the Cavaliers advanced to the Eastern Conference finals for the fourth year in a row with a 128-93 win in Game 4 on Monday night.
James finished with 29 points, 11 assists and spent some of the final 7:38 dancing near the bench during Cleveland's 10th straight playoff win over Toronto, which changed its system, its roster and its approach but still can't beat the game's best player.
Pushed to the max for seven games by Indiana in the first round, the Cavs took care of Toronto quickly.
"They were a well-balanced, put-together team this year," James said, praising a team he has tormented. "They've built a very good team that can succeed in the postseason. I felt coming into the series this would be a tough challenge for us."
Turns out, the Raptors still weren't good enough.
Kevin Love added 23 points and J.R. Smith had 15 for the Cavs, who can now rest while waiting for the Boston-Philadelphia semifinal series to end.
Jonas Valanciunas scored 18 and Kyle Lowry had 10 assists to lead the exasperated Raptors. Toronto's frustration hit its peak late in the third when All-Star DeMar DeRozan was ejected for a flagrant foul.
"They wanted it more than us," Valanciuas said. "That's about it. It was the mental stuff, not the basketball stuff that hurt us the most. It's not like we didn't want to win. We wanted to, but I think it was the frustration."
Cleveland's back in the East finals again despite a turbulent regular season and a bumpy start to the playoffs after the Pacers pushed the Cavs to the brink of elimination.
James arrived at Quicken Loans Arena three hours before tip-off wearing a baseball cap that said: "Don't Trip." If the message was directed at his teammates, they got it.
The Cavs didn't stumble and had one of their best all-around games of these playoffs after so many tight ones. They won Games 1 and 3 over Toronto by a combined three points, needing a buzzer-beater to outlast the Raptors on Saturday night.
There was no need for such heroics and for a change, James, who came in averaging 41.7 minutes per game in the postseason, had plenty of help. All five Cleveland starters scored in double figures and Love continued his spring rebirth after struggling against the physical Pacers.
The contributions from Cleveland's supporting cast came two days after "Saturday Night Live" poked fun at the team in a skit entitled "The Other Cavaliers," which didn't air but went viral on social media.
"From Game 1, they were wonderful," James said of his teammates. "I was horrible in Game 1 and they picked it up for me. So I tried to follow their lead going into Game 2 and all the way through Game 4."
Cleveland took control with a 12-0 run over the final 2:12 of the first half. The Cavs didn't let up, pushing their lead to 30 as their fans finally got a chance to relax and start making plans for the next round.
After James dropped a fadeaway baseline jumper to give Cleveland a 27-point lead, the 33-year-old stared at Toronto's bench as he ran back on defense.
The Raptors must see him in their dreams. It's back to the drawing board for Toronto. The Raptors had the league's second-best record, the No. 1 seed in the playoffs, a deeper bench and in Lowry and DeRozan enough firepower to offset James.
But after blowing a big lead and giving away Game 1 on their home floor, the Raptors never recovered and now face an offseason full of questions and second-guessing.(SD-Agencies)