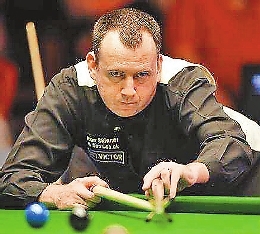 MARK WILLIAMS won the World Snooker Championship for the third time, 15 years after his last, by beating John Higgins 18-16 in one of the great finals at the Crucible Theater on Monday.
At 43, Williams became the oldest winner of the sport's biggest prize since 1978 when fellow Welshman Roy Reardon won his sixth and final world title.
Williams was talked out of retirement last year by his wife following a slump in form that was so profound that he didn't even qualify for the Crucible.
"I watched it in a car in his typical deadpan.
Twelve months later, he was lifting the trophy surrounded by his wife Joanne and kids following the closest final in 13 years.
One of the more laid-back players on the circuit, Williams started the two-day final jaded after a late finish to his semifinal against Barry Hawkins on Saturday.
He was eating in a kebab house at 2:15 a.m. local time Sunday and was seen snacking on crisps and chocolates — offered by a spectator sitting behind him — during the first session against Higgins.
Still, Williams built a 14-7 lead, only for Higgins to pull himself back to 15-15 with stunning counterattacking potting to set up a dramatic finale between two players who graduated from the same "Class of 1992," along with snooker's box-office star Ronnie O'Sullivan.
Williams went 17-15 up, before missing an easy pink that would have clinched him the title. Higgins responded by compiling a breathtaking break of 62 to win the frame by two points for 17-16.
Williams' run of 69, started by improbably cutting a red into the middle pocket, finally saw him home.
"To play John in a final is an experience in itself," Williams said.
"You've got to expect a comeback because when you're 50 or 60 in front, he's the best I've ever seen at clearing up and that includes Ronnie O'Sullivan.
"I was thinking, 'I'm not going to get over the line here.' I knew if I didn't get enough he was going to clear up again, but I'm over the moon."(SD-Agencies)