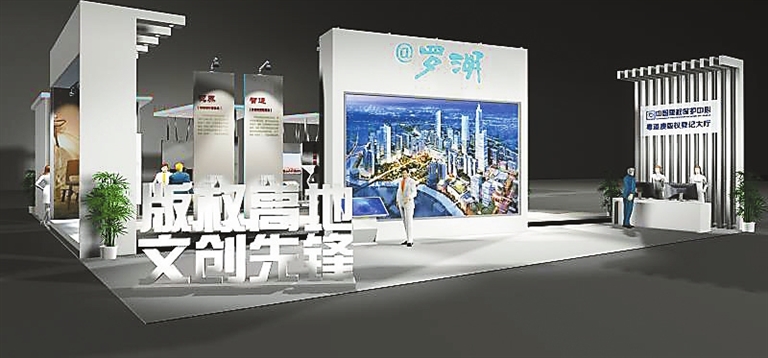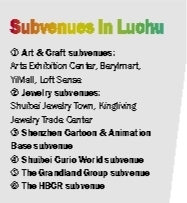 LUOHU will set up an exhibition area in Shenzhen Convention and Exhibition Center and designate six subvenues in the district to display the advantages and features of the cultural industries in Luohu District during the 14th China (Shenzhen) International Cultural Industries Fair (ICIF) from today to May 14.
In Hall 1 of the exhibition center, the ICIF main venue, Luohu District will manifest its cultural development and investment environment.
The exhibition area will be divided into five parts to introduce the copyright, gold and jewelry, craft and art, animation and creative design industries.
Activities at the subvenues will be developed around traditional cultural industries. For example, Berylmart will organize a summit on High-end Apartments and Smart Life that will be a platform for interior designers, engineering procurers and high-end consumers. The animation base will invite Toon Boom Animation of Canada's Corus Entertainment Group to host a briefing on an incubation plan for animations for children.
Arts Exhibition Center will organize an international procurement conference by inviting buyers from the countries along the Belt and Road. Shuibei Jewelry Town will set up an industrial alliance for the Belt and Road countries and open classes to introduce the jewelry resources and Chinese jewelry under the Belt and Road Initiative.
The Shuibei Curio subvenue will explain IPR protection in jewelry, and the animation industry base will organize a summit on IPR protection in the animation industry. Curio City will organize lectures on the IPR protection for arts products in the Internet era.
Cultural creation has become an important feature industry in the district. Statistics showed Luohu had 4,990 cultural creation enterprises by the end of 2016, 268 more than the previous year.
The enterprises generated revenue of 31.3 billion yuan (US$4.93 billion) in 2016, an increase of 4.56 percent over the previous year. Based on the latest standard in 2018, the number of creative enterprises above the designated scale has reached 520, accounting for 12.7 percent of the enterprises in the city above the designated scale. The district has formed a business cluster consisting of the gold and jewelry, arts and crafts, film and animation, and design industries.
In the film and animation industry the district has 2,747 movie and culture-related enterprises.
Luohu District plans to create an industry belt in Sungang Subdistrict. The industrial belt is developing videography and special-effects production by relying on Shenzhen's advantages in high technology and innovation.
Luohu is home to Shuibei Jewelry, the most influential jewelry market in China, the Arts Exhibition Center, a leading enterprise in stylish and fashionable home design in China, and a State-level animation industrial base.
To solve the bottlenecking problems posed by the development of cultural creative enterprises, such as their small sizes that make them more vulnerable to risk and financing difficulties, Luohu District is piloting a program to finance cultural creative enterprises through financial institutions.(Han Ximin)