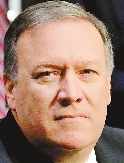 U.S. Secretary of State Mike Pompeo traveled to North Korea yesterday to finalize plans for a historic summit between President Donald Trump and the North's leader, Kim Jong Un.
U.S. officials said Pompeo will also press North Korea for the release of three detained American citizens, whose imminent release Trump has been hinting at.
Pompeo discussed the agenda for a potential summit in a meeting with Kim Yong Chol, vice chairman of the central committee of North Korea's ruling party.
Later, at a lunch of poached fish and duck hosted by Kim Yong Chol, Pompeo said the senior official had been a great partner in working to make the summit a success.
"For decades, we have been adversaries. Now we are hopeful that we can work together to resolve this conflict," Pompeo said, adding that "there are many challenges along the way."
Kim noted the improved relations between the Koreas, as well as the North's policy to "concentrate all efforts into economic progress" in the country.
"This is not a result of sanctions that have been imposed from outside," he added, citing the will of the Korean people. Trump has said that his pressure tactics brought North Korea to the negotiating table.
Pompeo, who first traveled to North Korea as CIA chief in early April, is only the second sitting secretary of state to visit the nation.
The first was Madeleine Albright, who went in 2000 as part of an unsuccessful bid to arrange a meeting between then-President Bill Clinton and Kim Jong Un's father, Kim Jong Il.
(SD-Agencies)