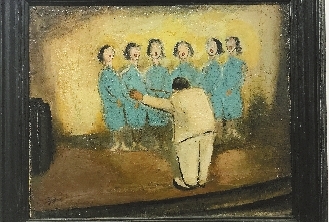 Cao Zhen
caozhen0806@126.com
BACK in September last year, among the hundreds of paintings by renowned Guangdong masters at the Guangdong Art Centennial Exhibition in Shenzhen, oil painting "Chorus" was not the most eye-catching piece on display since it was small in size, without splendid landscapes, elegant flowers nor striking portraits. Even if visitors had a glance at the painter's name in the caption, the name "Tan Huamu" would soon be forgotten afterwards as visitors moved on to admire paintings by other big names. To many, Tan's significance was unknown.
This summer, He Xiangning Art Museum is organizing a retrospective of Tan's works, the first ever in Shenzhen. On display are all his significant pieces, including "Chorus," "Landscape" and "Zhenhai Tower." Some oil paintings appear together with scores of preparatory sketches.
"This exhibition traces the exceptional career of Tan Huamu through his 'pictorial diary'," said Cai Tao, curator of the exhibition, which is titled "The South: Tan Huamu's Pictorial Diary."
Born in 1896 in Taishan, Guangdong, Tan was admitted to the Tokyo Fine Arts School to study Western painting in 1919. After he returned to China in 1924, he became a pioneer in modern Chinese art education, teaching in several schools in Guangzhou and Shanghai. As early as in the 1920s, he was regarded as a representative of Chinese modern art, which combines Post-Impressionism, Fauvism and Chinese literati painting.
During the War of Resistance Against Japanese Aggression, Tan moved to Macao. In 1956, he returned to Guangzhou to reunite with his family and thereafter worked as a painter at Guangdong Academy of Painting until his death in 1976. As an introverted and low-profile figure, Tan rarely exhibited his works and was considered "a missing person in art history."
Most of Tan's paintings are in green and blue tones with subjects like trees, the sky and fields, sending off the pleasant and heart-soothing feelings of South China. He usually went fishing and made sketches at Guangzhou's Yuexiu Park, Guangzhou Martyr Cemetery, Xicun Village and Fangcun Village. Tan was in favor of painting farmers laboring in fields, lovers and students relaxing in parks, and children playing in street lanes. Students' red scarves in his paintings form a beautiful echo with the red kapok flowers.
"Tan's paintings express the dynamic interaction between nature, humans and society. We can make a comparison between him and English artist L.S. Lowry, " said Cai.
In "Chorus," Tan only painted six young female singers' opening red mouths with omission of eyes and noses. The simple and vivid strokes in this painting are like a light-hearted song. Cai noted that although Tan's paintings look simple and small, the artist was very smart in composition and handling details.
Dates: Until June 17, closed Mondays
Venue: He Xiangning Art Museum, Overseas Chinese Town, 9013 Shennan Boulevard, Nanshan District (南山区深南大道9013号华侨城何香凝美术馆)
Metro: Line 1 to OCT Station (华侨城站), Exit C