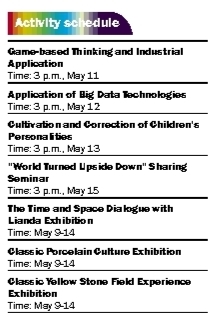 A VARIETY of culture-related activities were launched Wednesday at Shenzhen Culture Creative Park in Futian District, a subvenue of the 14th China (Shenzhen) Cultural Industries Fair (ICIF), to promote creativity, innovation and trade in the cultural industries.
The activities at the subvenue include exchanges, transactions, seminars and exhibitions.
Yunnan Tang Workshop Industrial Park and the Southwestern Associated University Culture Creative Center will introduce cultural IP brands and creative products that reflect the spirit of Southwestern Associated University (Lianda), which was temporarily formed in Yunnan by several prestigious Chinese universities in 1938 during the War of Resistance Against Japan (1937-1945). The university was disbanded after China's victory in the war.
An exhibition entitled "The Time and Space Dialogue with Lianda" will also be held.
The exhibition is divided into six parts to introduce the formation of Lianda in Yunnan by Peking University, Qinghua University and Nankai University after the war started in 1937, the contributions of Lianda to the society, the deeds of well-known professors in founding Lianda under extremely difficult conditions, and the spirit of Lianda during the wartime years. A series of classic creative works reflecting the history and spirit of Lianda will be on display at the creative park. A simulated scenario in the exhibition area featuring the Lianda Tea House will recreate life in Lianda during wartime. Visitors can listen to stories about Lianda while sitting around the tea table, drinking tea and getting a taste of Yunnan's local specialties.
Seven seminars on the Prospect and Strategies of Individuals and Enterprises in the AI Era, Game-based Thinking and Industrial Application, Application of Big Data Technologies and a parenting lecture on cultivating and correcting children's personalities will be held during the fair.
It is the 11th year that Shenzhen Culture Creative Park has been a subvenue of the ICIF and breakthroughs have been made in the scale and quality of the activities, according to Dong Dan, general manager of Shenzhen Culture Creative Park.
Dong said the creative park has been an important platform in integrating cultural resources, improving cultural innovation capabilities, manifesting cultural achievements and promoting cultural cooperation and exchanges through development over the past decade.
The growth of the creative park has moved along with Shenzhen's cultural industries. Dong said the activities at the subvenue follow closely with the development of society.
Shenzhen Culture Creative Park will focus on the new Culture Plus Science development mode to highlight creativity in their culture products, according to Dong.
(Han Ximin)