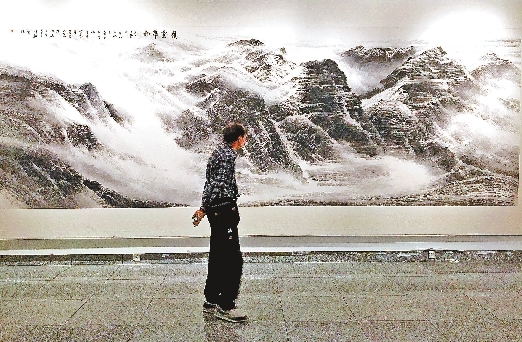 Cao Zhen   
caozhen0806@126.com
WALL-TO-WALL traditional Chinese landscape paintings created by Guangdong artist Xu Qinsong were exhibited from April 22 to May 2 at Guan Shanyue Art Museum, presenting magnificent depictions of Chinese mountains and rivers.
A student of Guangdong master Guan Shanyue (1912-2000), Xu, 66, was tutored under the Lingnan school of painting style, a style of painting from Guangdong that integrates Chinese and Western characteristics. Most of Xu's paintings depict grand mist-shrouded mountains and river tides surging forward with great force. The contrast of big white (river, cloud) and black (mountains) lumps in his works lends a modern feel to Xu's landscape paintings. "With broad and rich vision, Xu expresses a profound aesthetic style through his paintings. The vigorous and upright mountains are energetic while the enshrouding mist is obscure, which sends out a poetic feeling from the paintings," commented Fan Di'an, president of Central Academy of Fine Arts in Beijing.
"In ancient times, Chinese landscape paintings were derived from the painters' solitary lifestyles and dispositions, but Xu's paintings have a modern spirit which echoes the current national rejuvenation," said Yi Ying, a professor of Central Academy of Fine Arts. As the vice president of China Artists Association, chairman of Guangdong Literature and Art Association and dean of Guangzhou Fine Arts Institute, Xu has been the artistic advisor for the opening and closing ceremonies of the 2010 Asian Games in Guangzhou. His painting "Ridge Cloud With Rain" appeared in the poster of popular Chinese cuisine documentary "A Bite of China" in 2012. He once said that every time he peered over boundless mountains and clouds from planes, he was in awe of the sacred and sublime Chinese landscapes.