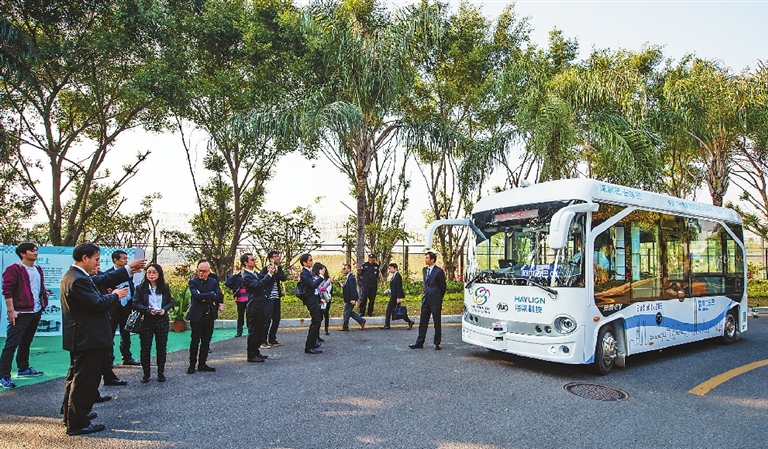 HAYLION Technologies signed a strategic cooperation agreement with Singaporean company Goldbell Group and Ministry of Movement Pte. Ltd. under Goldbell Group on April 27, joining hands to build Futian Free Trade Zone (FFTZ) into a demonstration area for an intelligent network and smart commuting. The dynamic on-demand bus service is expected to roll out in Shenzhen by the end of the year.
The on-demand bus service means that passengers can call a bus from any bus stop in the designated service area and choose which stop to get off using a mobile application. The bus offering this service will not run according to a set route. Instead, it will plan the route and stops based on demand and road conditions.
The goal of such a service is to reduce the waiting time for passengers, shorten the driving range and lower the operation costs of buses during non-peak hours.
Four buses using the Alphaba Intelligent Driving Bus System developed by Haylion Technologies initiated a test operation inside Shenzhen's FFTZ on Dec. 2, realizing smart buses driving on the open roads in the city.
So far, they have accumulated 12,000 km of road tests at a maximum speed of 40 km per hour with no accidents.
Mu Yi, assistant to CEO of Haylion Technologies, said that they plan to expand the scope and content of the trial operation by integrating technologies like 5G, LTE-V, Intelligent Vehicle Infrastructure Cooperative System, real-time dynamic passenger flow analysis and smart on-demand bus dispatch.
Shenzhen Haylion Technologies Co. was jointly founded by Gortune Investment Co. and expert professionals from the artificial intelligence, telecommunications engineering and new energy automobile fields as well as the public transport industry in China.
(Chen Xiaochun)