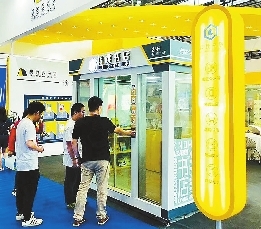 Nan Nan
there_sun@163.com
SEVERAL self-service bookstores were unveiled at the 14th China (Shenzhen) International Cultural Industries Fair (ICIF).
The 24-hour self-service bookstore "Knowledge Box," measuring 6 cubic meters, has attracted many visitors.
Customers who want to read or buy books must first follow Knowledge Box's WeChat account. After signing up, they will get a QR code to enter the box. Customers just need to scan the QR code again to leave the box after picking out books. "Designed to be consumer-friendly, the bookstore allows customers to leave before paying. The purchases are then calculated after customers have left and the payments are automatically made through WeChat," said Shao Chen, general manager of Shanghai Lidou Culture Media Co. Ltd.
Like Knowledge Box, these 24-hour self-service bookstores integrate innovative technologies like self-service payment, smart product identification, gesture recognition, anti-theft and facial recognition systems to realize a 24-hour self-service operation.
Self-service bookstores with a catering area are more common. A circular magnet is attached to the back of each book. Using magnetic sensing technology, the store will know when the book is in the catering area and the screen will show the book's title, price, and other information. The customer can then scan the QR Code on the screen to pay for the book.
Shao says customers no longer have to go to noisy and crowded traditional bookstores. "While a customer is using Knowledge Box, others can't enter the bookstore, and you can stay as long as you want."
"To help customers buy the books they need, the selections are carefully curated and customers can listen to the introduction of every book for free by scanning the QR Code on the bookshelf," Shao added. "We will recommend suitable books for people of all ages."
This bookstore will be put into use in communities in Shanghai after the ICIF.