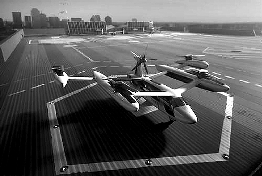 AFTER helping to pioneer peer-to-peer ride hailing and working to bring self-driving cars to the road, Uber's next step will take it to a place where it won't need roads.
At its second Elevate Summit in Los Angeles last week, Uber unveiled its latest design reference for its electric vertical takeoff and landing (eVTOL) concept, a flying car for its future urban aviation ride-hailing network.
Known internally as the eCRM-003, the eVTOL common reference model looks a bit like a cross between a massive drone and a small airplane.
Early eVTOLs will be piloted by a human, but the ultimate goal is for these vehicles to become autonomous.
Uber hopes to launch a commercial service, UberAir, with demonstration flights starting in 2020 in Dallas-Fort Worth, Texas and Los Angeles.
Future eVTOLs won't just be landing in your driveway. The UberAir vision places skyports at strategic locations around urban centers where passengers will begin and end flights.
(SD-Agencies)