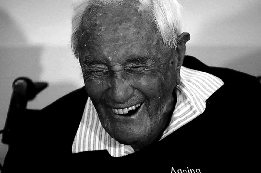 A BRITISH-BORN scientist has died at the age of 104 after he traveled to Switzerland to end his life at an assisted suicide clinic.
Dr. David Goodall traveled to the clinic from his home in Australia, where euthanasia is illegal.
Goodall was given a fatal dose of a sleeping drug at the clinic in Liestal, Switzerland, with Beethoven's "9th Symphony" playing in the room as he died Wednesday night.
A clinic spokesperson confirmed that Goodall had "gone in peace" and was surrounded by a handful of close family members and friends during his final moments.
Goodall arrived at the clinic shortly before 11 a.m. Wednesday, after eating a final meal of fish and chips and cheesecake in his hotel.
It is believed that he will be cremated in Switzerland, before his ashes are flown back to Australia.
Goodall addressed a press conference on the eve of his death to explain his decision.
"I am rather surprised at the wide Internet [attention] in my case. I am very appreciative of the hospitality of the Swiss federation and the ability which one has here to come to an end gracefully," he told reporters. "One should be free to choose their death, and when is it an appropriate time."
The scientist was not ill, but he had limited mobility, failing eyesight and said he had lost the desire to live any longer.
(SD-Agencies)