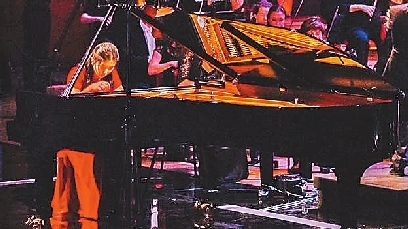 TEENAGE pianist Lauren Zhang has won the BBC's prestigious Young Musician competition, just days before she starts her GCSEs.
The 16-year-old took the title after playing Prokofiev's challenging "Piano Concerto No 2," accompanied by the City of Birmingham Symphony Orchestra.
Kerry Andrew, chair of the judging panel, said the performance "left us all breathless."
Zhang beat cellist Maxim Calver and sax player Rob Burton to win the title.
"I'm astonished!" she said after receiving the prize. "I'm pleasantly surprised and I can't believe it.
"The journey, right from the start of the competition, has been incredible."
Born in Albuquerque, New Mexico, she started learning piano at the age of four and is also an accomplished violinist.
Zhang moved to the U.K. in 2010, bringing her family with her, after winning a place at the Royal Birmingham Conservatoire.
She won the BBC Young Musician on home turf — having previously played in Birmingham's Symphony Hall at school concerts.
Although this was her first time playing with a professional orchestra, conductor Mark Wigglesworth had nothing but praise for the youngster.
"When you meet Lauren she seems... I wouldn't say shy, but controlled within herself and very confident about her own personality," he said.
"Then you hear her play and you discover this incredible depth and range of thought and imagination. That's an extraordinary combination."
Zhang said she chose Prokofiev's second piano concerto because it balanced "lyrical, elegant" melodies with moments that are more "grotesque or bizarre."
The BBC Young Musician competition began in 1978, and previous winners — including Nicola Benedetti, Freddy Kempf and Sheku Kanneh-Mason — have gone on to achieve worldwide success.
(SD-Agencies)