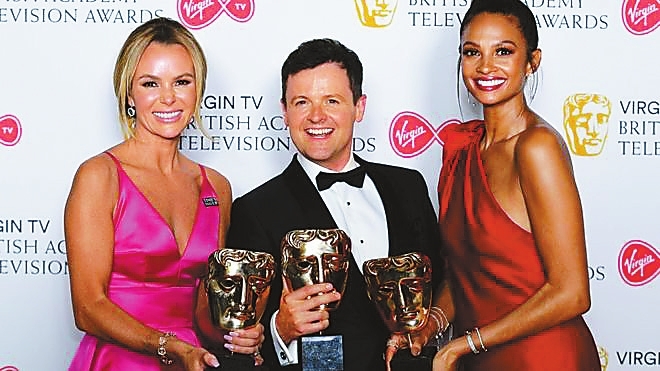 "BRITAIN'S Got Talent," "Love Island" and "Blue Planet II" were among the winners at this year's BAFTA Television Awards.
Declan Donnelly was at the ceremony to accept the entertainment program prize for "Britain's Got Talent" — but co-host Ant McPartlin wasn't there.
"Love Island" won its first ever Bafta, for best reality show, while "Casualty" scooped its first BAFTA for 11 years for best soap or continuing drama.
David Attenborough picked up "Blue Planet II"'s Must-See Moment prize.
That was the only award voted for by viewers, and it was for the scene showing a mother pilot whale refusing to let go of her dead calf.
David told viewers, "We set out to try and show the seas, the oceans, for what they are — their beauty, their wonder, their splendour, their intricacy.
"But also the truth about what what we're doing to them. The fact that that one particular moment rang a bell in the minds and consciences of people throughout this country is something that pleases all of us more than I can say."
Two Ant and Dec shows were nominated in the entertainment program category — Ant & Dec's "Saturday Night Takeaway" and "Britain's Got Talent."
In the end, BGT won. Dec went on stage with the show's team to accept the award, but he didn't speak from the podium. Ant missed the event because he's taking "time off" following his drunk-driving conviction.
Elsewhere, "Three Girls," based on the Rochdale abuse scandal, won two prizes — best mini-series and best actress for Molly Windsor.
She told the ceremony: "'Three Girls' was born out of the courage of the real three girls, and the real Holly, Amber and Ruby who told their story over and over and over and told it again to us.
"I just want to say thank you for recognizing how selfless that is and how brave that is."
"Three Girls" was one of a string of dramas inspired by real-life crimes to be honored. "Murdered For Being Different," about the murder of Sophie Lancaster in 2007, was named best single drama.
And Brian F O'Byrne, who played the father of murdered Rhys Jones in ITV's docudrama "Little Boy Blue," was named best supporting actor.
He dedicated the award to Rhys, who was 11 when he was shot dead in Liverpool in 2007.
"It's kind of difficult to get an award to play somebody who is living and who is at home tonight, like the last 10 years, suffering grief for the loss of their child," he said.
(SD-Agencies)