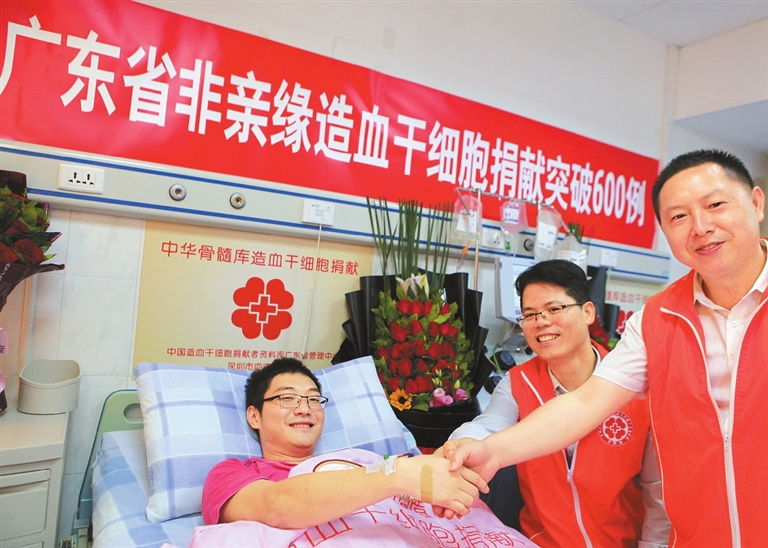 Zhang Yu
JeniZhang13@163.com
LYING on their beds smiling, Xie Wenzhi and Xiao Dai, two staffers from Shenzhen Metro Group, became the 599th and 600th unrelated donors of hemopoietic stem cells (HSC) in Guangdong Province.
The donations took place at Shenzhen No. 2 People's Hospital yesterday morning. After the collection were completed, the two donors' hematopoietic stem cells were immediately transferred to the patients' hospitals and transplanted into the patients within 24 hours.
"I think it's a very meaningful experience for me. I'm glad to help the patient with whom I was matched," said 41-year-old Xie Wenzhi. Xie was the 599th HSC donor for the China Marrow Donor Program's Guangdong division and the 250th donor in Shenzhen.
He said his family disapproved of the decision at first, as he is the mainstay of the family and they worried the donation would harm his body. However, after consulting with the doctor, his family became very supportive.
Xiao, 30, was the 600th and the 251st HSC donor in Guangdong and Shenzhen, respectively. "For me, 600 is just a number. The patient I was matched with is an 8-year-old boy and I'm more than happy to give hope to him and his family."
Xie and Xiao joined the China Marrow Donor Program in 2014 and 2015, respectively. The former got his first successful initial match this January, while the latter got his first successful initial match in early 2017.
"Both of the donees are leukemia patients, with one from Hubei Province and the other from Henan Province," said Lan Yuxiao, deputy director of the blood donation service department of Shenzhen Blood Center.
Lan added that the number of HSC donations and the utilization rate of the storage capacity in Guangdong are the highest in the country every year, which is closely related to the recruitment system of donors and the service level of volunteers.
At present, the number of voluntary HSC donors in Shenzhen has reached 39,000, accounting for 42 percent of the total in Guangdong. The number of successful HSC donations reached 251 yesterday, according to statistics from Shenzhen Blood Center.
Hemopoietic stem cell transplantation is presently an effective treatment for diseases like leukemia, severe thalassemia, aplastic anemia, multiple myeloma and myelodysplastic syndrome. The probability of siblings matching is 25 percent, while the probability of matching nonrelatives lies in the range of one in 400 to one in 10,000.