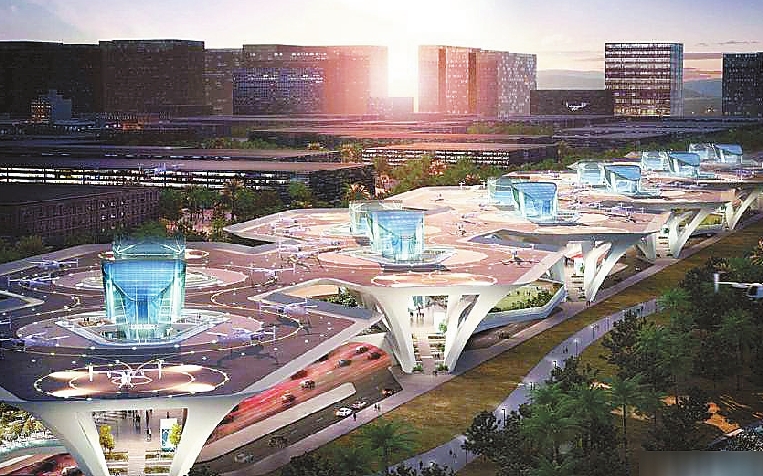 Uber飞行汽车站将于2023年运行
Uber has teased a look at what its futuristic Skyport flying taxi hubs could be like when UberAir comes to life.
At the firm's Elevate Summit in Los Angeles, Uber unveiled elaborate concept images of the Connect system developed by Corgan that could provide infrastructure for the vertical take-off and landing (VTOL*) craft.
The modular* system can essentially be installed anywhere, be it an open site, atop a parking garage, or even on the roof of a skyscraper, according to Corgan.
Uber has plans to begin its first flight demonstrations as soon as 2020, and begin taking passengers by 2023. And when it does, it will need a place for its air taxis to take off and land in busy cities.
The company explains that each "connect module" Corgan's Mega Skyport system is made up of four parts: the connection plaza, the bridge, the station and the flight deck. As it's modular, it can be adapted to suit different environments.
"The connection plaza is the main entrance and anchors the Skyport to an existing highway network," according to Corgan.
"The station is the heart of the module, providing a destination for anyone to enjoy. The flight deck houses the operations where passengers connect with their Uber eVTOL.
"For efficiency, eVTOLs join an autonomous* queue as passengers load and unload. To maximize throughput, modules can be paired," the firm says.
"There's also a dedicated landing and lift-off pads. As eVTOL flight matures, modules can be stacked for maximum vertical clearance. By providing unlimited access to the sky, the Uber Mega Skyport reclaims more than just time."
(SD-Agencies)