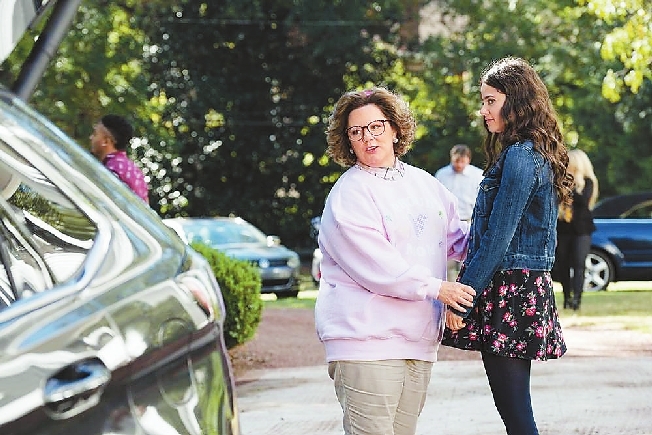 《派对生活》
Deanna (Melissa McCarthy) wears a pink sweatshirt emblazoned* with "Proud Mom" when she and her husband, Dan (Matt Walsh), drop their daughter off for senior year. They aren't out of the sorority* house driveway before Dan tells Deanna he is leaving her for another woman.
Abandoned*, Deanna decides to finish her degree. She turns up on campus excited and fully decked out in school paraphernalia*, from sweatshirt to backpack, walking around like the ghost of college past. She is clueless*.
Maddie (Molly Gordon), like any ordinary college girl, is quietly horrified at having her mother living in a nearby dorm and dropping by her sorority with snacks. Mean girls in class are sarcastic* about Deanna's wardrobe*, mocking her to her face. One of Deanna's new friends, Helen (Gillian Jacobs), sneakily* snips off some of a mean girl's hair. Helen was in a coma for eight years before returning to school.
Deanna herself begins to see that she's intruding on* her daughter's life.
Sure enough, in no time "Life of the Party" becomes a Deanna lovefest. She fits into college, and the film is filled with cliches. Maddie's sorority friends want to watch movies with Deanna and take her to their parties. At one party, Maddie takes her into the ladies' room, and in that quick trip removes her mother's glasses, smooths out her frumpy* curls and tosses away her embroidered smock*. Mom is now a woman in a black shirt who attracts a hot but sweet young guy. From then on, the film is a fairy tale of a mother-daughter friendship from a mom's point of view.
There is one hilarious scene set in a restaurant, with a surprise twist that gives Deanna some sweet revenge* on the woman her husband left her for (Julie Bowen).
There is a quick cameo* by Christina Aguilera, and a delightful, deadpan performance by Heidi Gardner ("SNL") in a small role as Deanna's roommate. As Deanna's best off-campus friend and contemporary, Maya Rudolph puts a terrific spin on tired lines. It's too bad that comic masters like McCarthy and Rudolph had to do a rescue job on their roles in this film.(SD-Agencies)