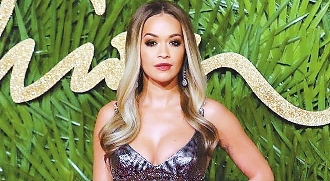 瑞塔·奥拉因歌词歧视LGBTQ人群道歉
Rita Ora has apologized after receiving criticism of her song "Girls" by several LGBTQ musicians.
Singers including Kehlani and Hayley Kiyo said the lyrics were "harmful" and accused the track of exploiting bisexuality*.
In her apology, Ora said, "I would never intentionally cause harm to other LGBTQ+ people or anyone.
"I have strived to be a contributor to the LGBTQ+ community throughout my entire career and always will be."
The track, which features Cardi B, Bebe Rexha and Charli XCX, was criticized by those who believed the song belittled same-sex relationships.
Some took issue with the chorus, which says, "Sometimes, I just wanna kiss girls / Red wine, I just wanna kiss girls."
Hayley Kiyoko wrote that she didn't "need to drink wine to kiss girls", while Kehlani called the lyrics "harmful."
Sam Neath from Bi Pride U.K. told Newsbeat the song "sort of sounds like it's undermining bisexuality as a serious thing."
Ora has responded to the criticism with a statement on Twitter, describing the song as representing her "truth."
She wrote, "I have had romantic relationships with women and men throughout my life and this is my personal journey."
Ora previously told People magazine she wanted the song to be a bisexual anthem, but was less clear when asked if she was bisexual herself.
"If people look at it like that, it's very narrow-minded and I don't think that's what this record is. I don't think that even matters," she said.
(SD-Agencies)