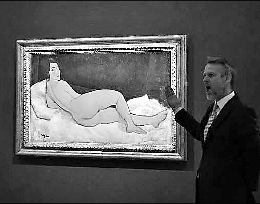 A MODIGLIANI painting has just become the fourth most expensive artwork to be sold at an auction, after it was purchased for a whopping US$157.2 million.
The stunning painting entitled Nu Couche by Italian artist Amedeo Modigliani was sold at a Sotheby's auction in New York on Monday.
The painting is not only pricey, but it's also the largest masterpiece by the famed artist.
Nu Couche, which was painted a century ago, was also purchased for the highest price in Sotheby's history and was the star single lot in the May auction.
Modigliani follows Leonardo da Vinci and Pablo Picasso as the third highest-selling artist at auction. Monday's sale failed to eclipse the US$170.4 million paid for another Modigliani nude at Christie's in 2015.
The bidding for the piece was restrained, lasting just three to four minutes after opening at US$125 million.
Auctioneer Helena Newman brought the hammer down at US$139 million. The final price includes a buyer's premium.
The piece measures 147 centimeters wide.
Simon Shaw, co-head of impressionist and modern art at Sotheby's, said the painting sold Monday reflected the changing status of women during World War I. "This is a nude of a very self-possessed, sexually confident woman who is not looking out from a distance. She's absolutely meeting our gaze," he said prior to the sale. (SD-Agencies)