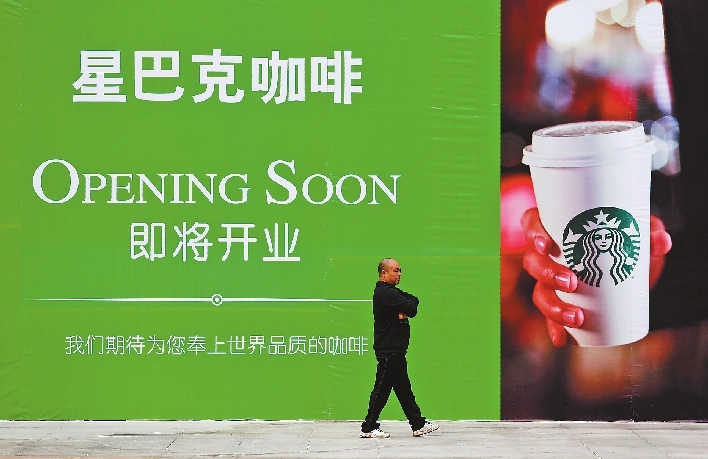 STARBUCKS Corp. unveiled a bold plan to more than triple revenue in China over the next five years, at a time when other American corporates worry that simmering trade tensions may disrupt their businesses in the world's second-largest economy.
Starbucks plans to weather trade tensions by focusing on its Chinese employees and customer base, chief executive officer Kevin Johnson said in an interview in Shanghai on Tuesday.
The coffee giant laid out plans to compete with KFC in the race to become China's fastest-growing foreign food chain by opening a new store every 15 hours through 2022. It plans to have 6,000 stores on the Chinese mainland by then, compared with a previous target of 5,000 by 2021.
"China has a long runway of opportunity for Starbucks," Johnson said as the chain kicked off a two-day investor conference in Shanghai, the first to be held outside of the United States. "We can't control what happens in the geopolitical situation. We are not immune to it, but we take a long-term view."
Starbucks is increasingly reliant on China, where it has no close rivals, to prop up underwhelming sales growth in the United States and elsewhere.
A US$7.2-billion deal with Nestle SA earlier this month gives the coffee giant the cash to pursue its goal of accelerating expansion in China, which is set to become Starbucks' largest market within a decade.
The Seattle-based company also expects to more than double its operating profit in the country by fiscal year 2022.
About 15 percent of Starbucks' revenue came from its China and Asia Pacific markets — about US$3.2 billion — in fiscal 2017, according to company data compiled by Bloomberg.
It currently has 3,300 outlets in China, compared with about 12,000 in the United States, including licensed stores. Yum China Holdings Inc., which separated from Yum! Brands Inc. in 2016, said it had 8,112 stores including KFC and Pizza Hut at the end of March.
The push in the China market comes as its stores in the United States face fierce competition from up-and-coming regional coffee houses and steep discounting from fast-food rivals.
Consumers also are shopping more at home, shunning brick-and-mortar retail for e-commerce. In China, where cafe culture is less mature but e-commerce more developed, Starbucks cafes have cornered the market on plush but casual meeting spots.
The Starbucks deal, which gives Nestle the right to market Starbucks products from beans to capsules, will also give the Seattle coffee brand access to a whole new market in China.
Switzerland-based Nestle can now sell Starbucks-branded packaged coffee products in Chinese supermarkets, restaurants and catering operations. That's something Starbucks hasn't done previously in the country.
(SD-Agencies)