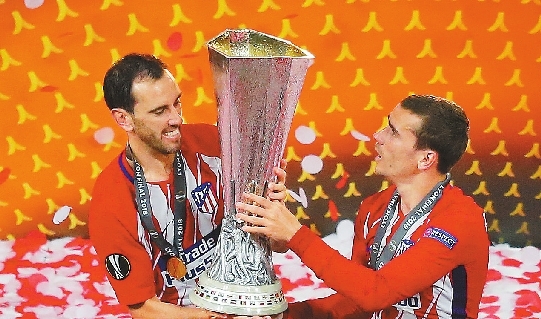 STRIKER Antoine Griezmann figured he owed it to coach Diego Simeone to win the Europa League with Atletico Madrid.
He did so in style, scoring two expertly taken goals as Atletico won the trophy for the third time with a 3-0 victory against Marseille in Wednesday's final.
Griezmann's decisive contribution helped erase bitter memories of 2016, when he missed a second-half penalty in Atletico's Champions League final loss to Real Madrid.
"It was a dream of mine to win this trophy with my teammates and with Simeone," the France forward said. "Simeone has taught me a lot. He's made me into a better player and one of the best in the world. I hope I can continue to win more trophies."
Maybe not with Atletico.
His goals might end up being the parting gift, considering Griezmann has been increasingly linked with a move to Barcelona.
"I don't think it's the time to talk about my future," Griezmann said. "I want to enjoy the moment. I want to enjoy this with the fans."
Marseille's fans made the three-hour road trip home regretting what might have been if striker Valere Germain had converted a third-minute chance.
"We missed our chance. You can't fall behind against a team like Atletico," Marseille coach Rudi Garcia said. "In the second half they raised their level and the best team won."
Marseille was going for a second European trophy, 25 years after winning the Champions League, but ultimately had no answer to Griezmann's mobility and finishing. Captain Gabi capped off Atletico's victory with a fine finish in the last minute after being set up by Koke.
"It's about more than a trophy," Simeone said. "It represents the value of hard work, a steady hand and consistency, values to be successful in life."
Several Marseille players were in tears at fulltime, undone by a player who was rejected by several French clubs as a youth because of his diminutive stature.
"This is a reward for me after I left home aged 14, for all the work I have put in, the suffering," Griezmann said.
(SD-Agencies)