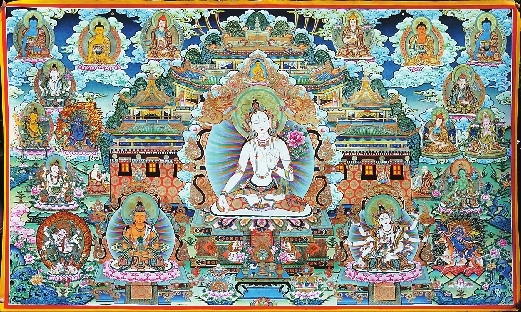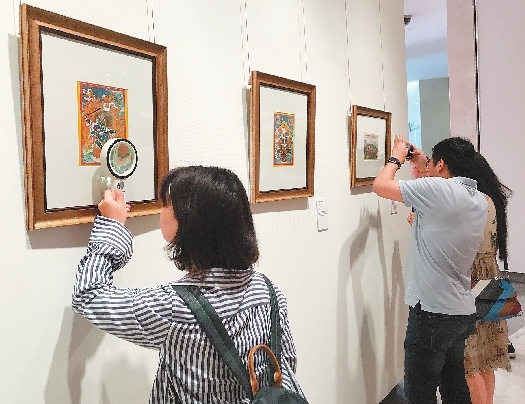 Cao Zhen
caozhen0806@126.com
More than 60 finely painted Regong thangkas created by Qinghai master Niang Ben and his students are on display at Guan Shanyue Art Museum. Magnifying glasses are offered at the exhibition for visitors to use while admiring the amazingly meticulous detail of the pieces.
A thangka is a Tibetan Buddhist painting on cotton, usually depicting a Buddhist deity, scene, or mandala. Most thangkas are relatively small, comparable in size to a half-length portrait, but some are extremely large, several meters in each dimension. Large thangkas are designed to be displayed, typically for very brief periods on a monastery wall, as part of religious festivals.
Thangkas often have elaborate compositions including many small figures. A central deity is often surrounded by other identified figures in a symmetrical composition. Narratives are less common, but do appear.
"Thangka is an art which requires painters to put their heart and soul into every detail. Every stroke is done with the power of Buddha. Before making thangkas every day, we do chanting, scriptures and praying because thangka is linked with Buddha," said Niang, who began to study thangka painting at the age of 12.
Niang, 47, said that when making a draft, aligning the central Buddha's position is very important, and the artist must be mindful of every detail at all times. "Generally, it will take a painter two months to finish a thangka of 70 centimeters in height, consisting of five to six Buddhas. It normally takes an apprentice five to six years to complete the apprenticeship and then a long time to become an excellent artist."
When Niang was 20, he spent three years in Chengdu studying gongbi, a careful realist technique in traditional Chinese painting. He then spent another eight years in Tibet studying mural art in temples. Finally he formed a unique personal style combining gongbi technique with thangka by adding shadows to make 3-D effects for subjects among other hybrid techniques.
"If you are careful in every step, from polishing cotton cloth to preparing pigment, a thangka can survive thousands of years, without fading or changing colors," said Niang.
Niang now is the director of Regong Painting Institute in Huangnan Tibetan Autonomous Prefecture in Qinghai Province. The institute, founded by Niang in 2006, aims to protect, pass on and develop traditional Regong art and are doing so with an annual output of 3,000 thangka paintings and embroidery items.
Dates: Until May 27
Hours: 9 a.m.-5 p.m., closed Mondays
Venue: Guan Shanyue Art Museum, 6026 Hongli Road, Futian District (福田区红荔路6026号关山月美术馆)
Metro: Line 3 or 4 to Children's Palace Station (少年宫站), Exit B