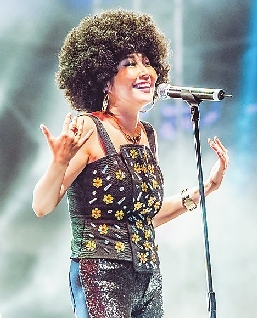 Cao Zhen
caozhen0806@126.com
Chinese band Tea Rockers and German duo Krautwerk opened the fifth Tomorrow Festival on Thursday night at B10 Live in OCT-LOFT. A mix of music and tea culture, Tea Rockers presented experimental music of guqin, electronics, ruan and vocals. Krautwerk followed Tea Rockers's performance with an electronic music gig.
Over this weekend, five more bands or musicians from China, Japan, Britain and France will bring their fresh music at the annual Tomorrow Festival, which is renowned for its avant-garde style.
Chinese "Disco Queen" Zhang Qiang (May 18) will move the dance floor Friday night. Mainly active in the 1980s, Zhang started experimenting with new styles such as electronic music in recent years.
Gong (May 20), an international progressive rock band, will bring a fusion of jazz and space rock. Formed in Paris in 1967 by Australian musician Daevid Allen and English vocalist Gilli Smyth, Gong's current lineup includes Kavus Torabi (vocal, guitar), Ian East (saxophone, flute), Dave Sturt (bass, vocal), Fabio Golfetti (guitar, vocal) and Cheb Nettles (drums, vocal).
Shows at B10 Live
• May 18
Time: 8-9 p.m., Aoki Takamasa (Japan); 9:30-11 p.m., Zhang Qiang (China)
Tickets: 100-150 yuan
• May 19
Time: 8-10 p.m., Jun Togawa (Japan)
Tickets: 280-320 yuan
• May 20
Time: 8-9 p.m., Guo Yongzhang (China); Gong (U.K./France)
Tickets: 100-150 yuan
Free lecture: "Dynamite Hemorrhage! Underground Music Print Fanzines in a Digital-First World"
Speaker: Jay Hinman
Time: 2-4 p.m., May 19
Venue: A3+
Free Screening: "Here to Be Heard: The Story of the Slits"
Time: 2-3:30 p.m., May 20
Venue: A3+
Add: North Area, OCT-LOFT, Nanshan District (南山区华侨城创意文化园北区)
Metro: Line 2 to Qiaocheng North Station (侨城北站), Exit B