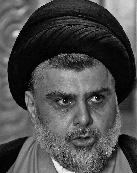 THE final result of Iraq's elections confirmed Saturday was a breakthrough for nationalist cleric Muqtada al-Sadr, who was in the lead, ahead of internationally favored Prime Minister Haider al-Abadi.
But the possibilities for alliances to form a coalition government remain wide open.
None of the three leading groups won more than 55 of the 329 seats up for grabs in parliament in the May 12 vote, which saw record high abstentions with just 44.52 percent turnout.
In a system calibrated to divide parliament after the fall of Saddam Hussein following the American-led invasion of 2003, al-Sadr's Marching Towards Reform alliance is far from assured of governing Iraq for the next four years.
Al-Sadr is looking to be the kingmaker and to cobble together a technocrat government from a dozen parties.
But despite leading the tally, his alliance falls short of a majority and it will take lengthy wrangling to forge a coalition.
The vote was a slap in the face to the widely reviled elite that has dominated Iraq since the 2003 U.S.-led invasion that ousted Saddam Hussein.
Al-Sadr rose to prominence in the wake of the U.S. invasion, when his militia fought a bloody insurgency against American troops. After years on the sidelines, he has reinvented himself as a champion of the poor and linked up with secularists to battle corruption.
He is one of the few Iraqi politicians opposed to both the presence of American troops and the heavy influence that neighboring Iran exercises over Iraq.
(SD-Agencies)