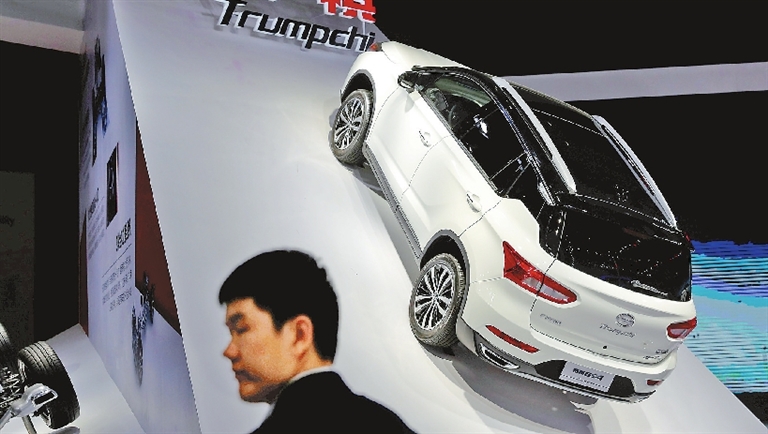 TOYOTA Motor Corp. is taking an unprecedented route to meet China's stringent green car quotas: its showrooms will sell an electric vehicle without the Japanese company's distinctive triple-oval logo.
Instead, it will feature the label of GAC Motor, Toyota's Chinese partner, and will be built around GAC's lower-cost technology.
The move — a first for Toyota — will give GAC access to the Japanese carmaker's stringent quality control, prestige and sales channel. For Toyota, it presents a quick way to meet China's requirements that such vehicles represent 10 percent of an auto manufacturer's production by 2019.
According to two company executives familiar with the matter, Toyota plans to start selling the GAC Toyota ix4 by the end of the year. The car is a battery-powered compact SUV based on GAC's Trumpchi GS4, and has been in development for two years.
Selling a car derived from a Chinese partner's vehicle would have been unthinkable just a few years ago. But the idea gained momentum at Toyota because of the Chinese Government's push to get more electric vehicles on the road, the executives said.
The government mandates have spurred other new alliances, such as Ford Motor Co.'s agreement to develop electric vehicles with Zotye Automobile Co.
Ford is waiting for regulatory approval for its partnership, which calls for designing and manufacturing several jointly developed no-frills EVs and selling them through a new China-only brand.
It wasn't immediately clear which parts of the ix4 Toyota would provide, or which company's design standards were used. Quality experts say GAC cars rate relatively high.
According to Jeff Cai, a Beijing-based senior director at JD Power & Associates, some of GAC's cars, such as the Trumpchi GS8 crossover SUV, already stack up well head-to-head with vehicles marketed by global automakers.
"The GS4 is a good car with acceptable quality," Cai said. He added that the GS4 ranked No. 1 among Chinese brands and No. 3 among all brands for initial quality in the compact SUV category.
Under the new Chinese regulations taking effect next year, carmakers must amass credits for new energy vehicles equivalent to 10 percent of annual sales by 2019. That level rises to 12 percent for 2020. New energy vehicles are defined as all-electric battery and plug-in electric hybrid cars.
Although the ix4 gives Toyota a cheaper and quicker way to meet the quota, it also shows the company's anxiety about getting a toehold in the Chinese EV market before its own all-battery vehicle is available in 2020, industry officials and experts said.
"It's a creative solution to a critical issue all automakers face in China: how to meet the strict production quotas for electric cars," said James Chao, Shanghai-based Asia-Pacific head of consultancy IHS Markit.
Until recently, Toyota was one of the industry's major hold-outs against full electrification. The company had planned to more or less skip battery-powered cars and turn instead to hydrogen fuel-cell technology as a mainstream alternative to gasoline-fueled cars.(SD-Agencies)