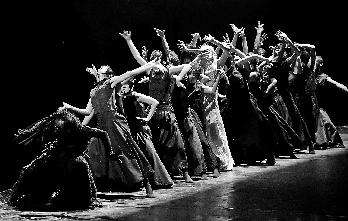 Famous Chinese dancer Yang Liping is bringing her show "Under Siege" to Shenzhen Poly Theater this week.
It's based on the historic, bloody battle between ancient Chinese warlords Xiang Yu and Liu Bang. Yang's work continues to combine and re-imagine the diversity of China's contemporary and ancient traditions.
Featuring sets and costumes by Academy Award-winning designer Tim Yip and lighting by Fabiana Piccioli, this work draws inspiration from Chinese opera, modern dance, martial arts and hip-hop. The historic tale is told through its distinctive characters and use of live music, creating a universally dramatic experience that transcends its Chinese roots.
At 60, Yang is the director, choreographer and star of famous performance art show "Dynamic Yunnan" which has drawn sellout crowds all over China. Between 2004 and 2008, she directed and choreographed the trilogy: "Dynamic Yunnan," "Echoes of Shangri-la" and "Tibetan Myth." In 2004, "Dynamic Yunnan" won five major awards at the National Lotus Awards, including Gold Award for Dance Spectacular, Best Choreography and Best Female Performer.
Time: 8 p.m., May 23-24
Tickets: 180-880 yuan
Venue: Shenzhen Poly Theater, intersection of Wenxin Road 5 and Houhaibin Road, Nanshan District (南山区后海滨路与文心五路交界处深圳保利剧院)
Metro: Line 2 or 11 to Houhai Station (后海站), Exit E(SD News)