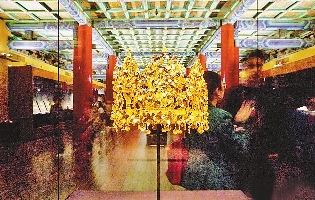 DIRECTOR of the Afghan National Museum Mohammad Fahim Rahimi said that holding exhibitions of cultural treasures at museums is an important means for introducing civilizations and enhancing the understanding and cooperation between peoples of different regions. In this regard, he was very satisfied with the outcome of his country's cultural exhibition held in China.
"Luckily more than half a million people visited the Afghan artifacts in the exhibition held in Chengdu over the past three months. It is huge number," Rahimi told Xinhua with delight on the eve of International Museum Day.
Afghan cultural treasures from the Afghan National Museum have been exhibited in several other countries including Canada, the United States, Japan, South Korea and several European countries since 2006. Last year, the Afghan artifacts were displayed for a few months in the Palace Museum in Beijing, and thousands of people including Chinese and foreigners visited the artifacts, which proved significant for the introduction of Afghan history and culture to Chinese people.
"Afghanistan has served as the crossroads of civilization in the course of history connecting South Asia to Central Asia and as well as the East to the West," said Rahimi, adding that displaying Afghan cultural treasures in China, a peaceful and most populous country, is vital for understanding Afghanistan from the outside.
In Kabul, around 300 people visit the National Museum every day, said the Afghan national museum chief. However, he noted that "unfortunately foreign visitors are few and of course the reason is due to security concerns."
According to the plan, the items will be sent to Zhengzhou in central China, Shenzhen in southern China, and Hunan Province in central China for exhibitions lasting until December.
Thanking China for providing opportunities to the Afghan National Museum to put on display Afghan cultural treasures, Rahimi maintained that holding exhibitions in China on the one hand had introduced Afghan civilizations and on the other hand, it has earned funds to support and develop museums inside the country. "We are satisfied with the outcome of holding exhibitions in China. We have achieved our goal," said the Afghan museum chief with joy.
The Afghan National Museum was severely damaged in wars and conflicts from 1990 to 2001. During their reign, Taliban terrorists even dynamited and destroyed a giant Buddha statue in central Bamyan province months before its collapse in late 2001.
Rahimi disclosed that Afghanistan still faces challenges to protecting cultural relics, such as a lack of funds and research, technological underdevelopment, and a severe shortage of professional equipment and talent, all factors that are restricting the restoration process. However, Rahimi said that the national artifacts have been recovered and are all now in safe hands.
He said that only 231 relics out of some 70,000 items belonging to the National Museum are housed there currently, adding that the construction of the new building would begin next year.
(Xinhua)