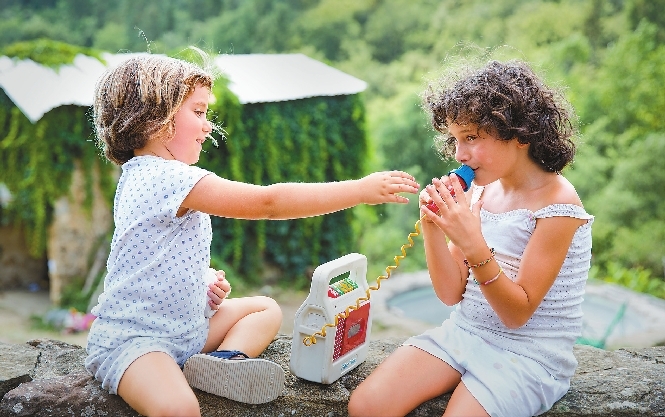 Carla Simon's feature debut* is a biographical* piece about an orphaned girl's troubled life with her new family.
Following the death of her parents from AIDS, at a time when ignorance* about the illness was common, Frida (Laia Artigas) is sent to the mountainside town to live with her mother's brother, Esteve (David Verdaguer), his wife Marga (Bruna Cusi) and their daughter Anna (Paula Robles).
The woods, natural pools and chickens in the yard should make this an idyllic* location for a 6-year-old on her first trip away from the city, but of course it can't be that for Frida. Even the chickens scare her. The four-letter illness word is never mentioned — and family shame meant it was not mentioned much back then — so that troublingly for the young girl, nobody seems to know what her mother died of.
Unable to talk about her pain except to a weeping statue of the Virgin Mary to which, inspired by the religious beliefs of her grandmother Maria (Isabel Rocatti) she regularly returns, Frida starts to take out her feelings on Anna, at one point leaving her in the woods as part of a "game" she is playing and leading to a broken arm for her new little sister.
The effects on the rest of the family are immediate. "That girl has no morals," says Marga to Esteve, and soon Frida is not only orphaned, but also starting to feel as though she's living among the enemy. The script's even-handedness in this regard is one of its strong points: In such a situation, everyone's a victim.
The film pretty much follows the textbooks in terms of the psychological effects of events on its characters. It delivers few dramatic surprises, but it delivers these effects in a true and captivating* manner. The exchanges between Frida and Anna are fresh and spontaneous*, which are evidence of Simon's skill at directing actors.
They contain the film's most emotional moments, since the girls are so vulnerable* in different ways. At one point, for example, Anna hands Frida a telephone and asks whether she wants to phone her mother.
Artigas plays Frida in a tight-lipped manner that suggests there's a world of emotion inside her waiting to explode.
(SD-Agencies)