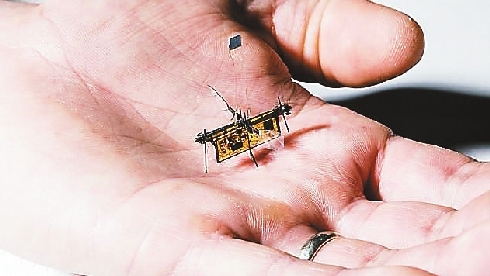 Though insect-sized flying robots have been around for a while, none had been able to take untethered fight until now.
Engineers at the University of Washington have revealed that the RoboFly has taken its first untethered flaps, marking the first time a wireless flying robotic insect has flown.
Previously, the electronics the insects carried to power and control their wings were too heavy for the robots to fly with, meaning they had to remain connected to a wire.
RoboFly is only slightly heavier than a toothpick and is powered by an onboard circuit* that converts the laser energy into enough electricity to operate its wings.
Insect-sized flying robots could be used for time-consuming* tasks like surveying crop growth on large farms or sniffing out* gas leaks.
"I'd really like to make one that finds methane* leaks," said Sawyer Fuller, an assistant professor in the university. "You could buy a suitcase full of them, open it up, and they would fly around your building looking for plumes of gas coming out of leaky pipes."
They could also help in life-saving search and rescue missions.
Their small size is advantageous as these robots are cheap to make and can easily slip into tight places that are inaccessible to big drones.(SD-Agencies)