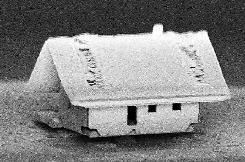 Using a new nanorobotic* system, French scientists built a micro house on top of an optical fiber* that's as thin as human hair, a mere 75 microns* thick. It measures just 20 micrometers* across but has several stunningly accurate details, including a front door, windows and even a tiled roof.
The scientists from the Femto-ST Institute detailed the process of creating the microhouse in a new study published in the Journal of Vacuum Science & Technology A.
The new nanorobotic system, called μRobotex, uses a combination of technologies, including a tiny robot, a focused ion beam* and a gas injection device.
To construct the microhouse, the scientists used a mix of origami* and nanometer-precise robotics.
"In this new type of nanolab, cutting, etching*, folding, assembling and then welding* thin membranes* of silica* on top of a cleaved optical fiber or production of micro- and nanostructures, like the microhouse, are possible," according to the study.
(SD-Agencies)